Namib-Naukluft National Park safaris, tours & holiday packages
Dunescapes and mountains dominate Africa'slargest national park
Custom Namib-Naukluft National Park
Describe your dream trip
We'll source the best value
Book when you're ready
The vast Namib-Naukluft National Park protects the dunefields around Sossusvlei, set in the expansive Namib Desert, as well as the hiker-friendly Naukluft Mountains
Almost half of Namibia's land area is comprised of the Namib, the world's oldest desert and the major component of the Namib-Naukluft National Park, the largest such entity in Africa.
The remainder of this 49,768 square-kilometre park comprises the scenic Naukluft Mountains, a prominent range of dolomite and limestone crags that rises from the surrounding desert to an altitude of almost 2,000 metres. Much of the park is quite inaccessible in anything but full-on expedition mode, but those sites that can be reached in an ordinary saloon car include some of the most rewarding in Namibia.
Popular Namib-Naukluft National Park safaris
These popular itineraries can be customised to match your budget and travel dates
From the famous Sossusvlei, quaint Swakopmund, historical Damaraland and on towards Etosa National Park, this road trip through Namibia is an authentic and different take on a safari...
$ 1,518
£ 1,133
R 23,480
€ 1,362
per person
9 days
Philip Briggs says
"It is difficult to convey the immense sense of space associated with Namib-Naukluft – a practically unpopulated area that covers an area larger than Switzerland! And if nothing else, Sossusvlei is a true must-see destination, ranking up there with, say, Victoria Falls or Kilimanjaro as one of the most iconic sights in sub-equatorial Africa."
More on Namib-Naukluft National Park holidays
For hikers, the main drawcard is the Naukluft Mountains, whose scenic slopes can be explored along two moderately strenuous day walks, the altogether more challenging eight-day Naukluft Trail or a newer 73-kilometre 4x4 trail that is limited to just four vehicles daily.
In addition to the scenery, the mountains host a plethora of succulent plants, large mammals such as the threatened Hartmann's mountain zebra and the more elusive leopard. There are almost 200 recorded bird species including spectacular raptors such as Verreaux's (or black) eagle and augur buzzard.
The main tourist focus in the Namib is Sossusvlei, a scenic dry pan set in the heart of the world's tallest dunefields, and home to desert wildlife such as gemsbok and ostrich. Elsewhere, the stony desert typical of the coastal belt can be explored from the ports of Swakopmund or Walvis Bay along Welwitschia Drive, a good place to see the remarkable plant Welwitschia mirabilis, a sprawling terrestrial relative of the conifer that can reach 1,000 years old.
Namib-Naukluft National Park Map
Namib-Naukluft National Park's location on Google Maps

Frequently Asked Questions about Namib-Naukluft National Park
How does the weather influence a safari?
While a safari holiday can be at any time of year, it is worth noting that seasonality will impact the type of experience you're likely to have as well as the cost of your safari. During the dry season, the wildlife tends to congregate… go there.
What is a typical day on safari like?
Life on safari has a rhythm of its own, largely dictated by the animal's movements. Generally, the most rewarding times for game viewing is in the cooler early mornings and also late in the afternoons when the animals are most active. A… go there.
Is going on a safari dangerous?
You are putting yourself in a position where you are exposed to wild animals for which many of them are dangerous. However on a safari every precaution is made to ensure your safety when going on a game drives or walks. This is why it is of… go there.
What vaccinations should I get?
This is all dependant on the countries that you will be visitng and due to the status of certain vaccinations changing at times, please consult our experts before getting vaccines. go there.
Is it okay to drink the water?
In some parts of Southern Africa it is safe to drink the tap water, however it is highly recommended to stick to bottled water (mostly supplied) during your trip as even drinkable African water is completely different in taste and… go there.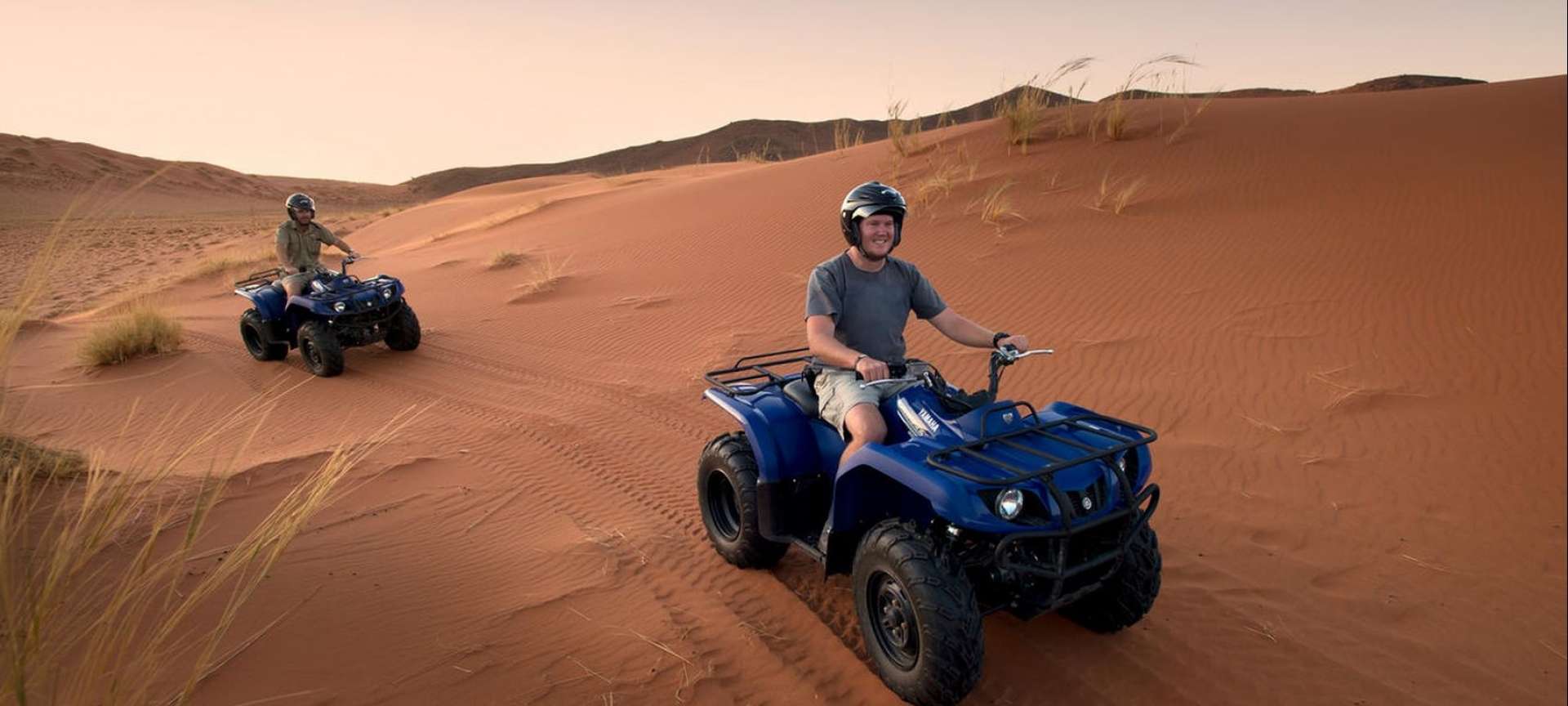 Reviews on our Namib-Naukluft National Park safaris
Since the beginning, agents and staff of Discover Africa already work in a professional way for me to plan the trip. Their quick responses to my questions help us a lot before departing from our place to the Africa continent. When we were…
YT
from Hong Kong
This was my first safari. I didn't expect to be so pampered. Everything was first class. We had everything provided for us before even asking. We had a dedicated team at our service. Megan was on call whenever we needed something and she…
Saada
from Nigeria
Tanya was an absolute delight to deal with. From the first phone call she was extremely polite, professional and very eager to facilitate my requests regarding our safari. Our 3 nights at the V & A Hotel were fabulous and Motswari Game…
Debbie
from Australia
Perfectly tailor-made tours that take all your wishes and requests into consideration. All my expectations were beyond fulfilled.
Henrik Wetterstrand
from Sweden
Living afar and trusting in an organisation with whom you have no previous knowledge can lead to feeling of mistrust and wondering whether what we have paid for actually exists. A little more proactive communication would have eased those…
Tony Russell
I just wanted to thank Discover Africa and Karl Svendsen - the safari was great - we saw many more animals than expected including cheetah, leopard, many lions and even a three-day old elephant calf. Additionally, we had our own hippo…
Margaret Dean