Everlasting African memories - Vanesa's Tanzania safari experience
There are few countries that can compare with Tanzania's sheer numbers of wildlife, natural beauty and cultural diversity. Vanesa Mesquita, a business owner from Brazil, was fortunate enough to experience it during 12-day Tanzania safari from 27 June to 8 July 2014. Vanesa's Tanzania safari took her from the…

There are few countries that can compare with Tanzania's sheer numbers of wildlife, natural beauty and cultural diversity. Vanesa Mesquita, a business owner from Brazil, was fortunate enough to experience it during 12-day Tanzania safari from 27 June to 8 July 2014.
Vanesa's Tanzania safari took her from the northern city of Arusha, to the historic Ngorongoro Conservation Area, into the Tarangire National Park, Lake Manyara and the wildlife rich Serengeti National Park.
Vanesa has always been fascinated by Africa. When she contacted us to help her plan her Tanzania safari, she wanted one thing - to have memories that will stay with her forever.
Vanesa's Tanzania safari map
Vanesa's Tanzania safari (as told by Vanesa Mesquita)
Tanzania as a whole was an intense experience and very different from my previous African trip to South Africa, in the sense that it is so much more perceivably wild. You don't feel, for instance, as you do while visiting the greater Kruger area in South Africa, that you can drive yourself around or that you might soon reach civilization.
Tarangire, although the smallest of the parks I visited, will remain a favorite. The high concentration of elephants make for amazing viewing. To watch large families coming out of the great swamp area of the park into the plains at sunset was a huge highlight.
"I could have easily stayed there all day watching elephants and zebras among ancient baobabs"
The lodge we stayed in, although nowhere near luxurious, was extremely comfortable and also provided a sense of wilderness in the tents, where I was constantly woken that night by the roaring of lions not too far from us.
The view from the lodge's deck is simply spectacular and I could have easily stayed there all day watching elephants and zebras among ancient baobabs if the lure of the safari vehicle were not so great.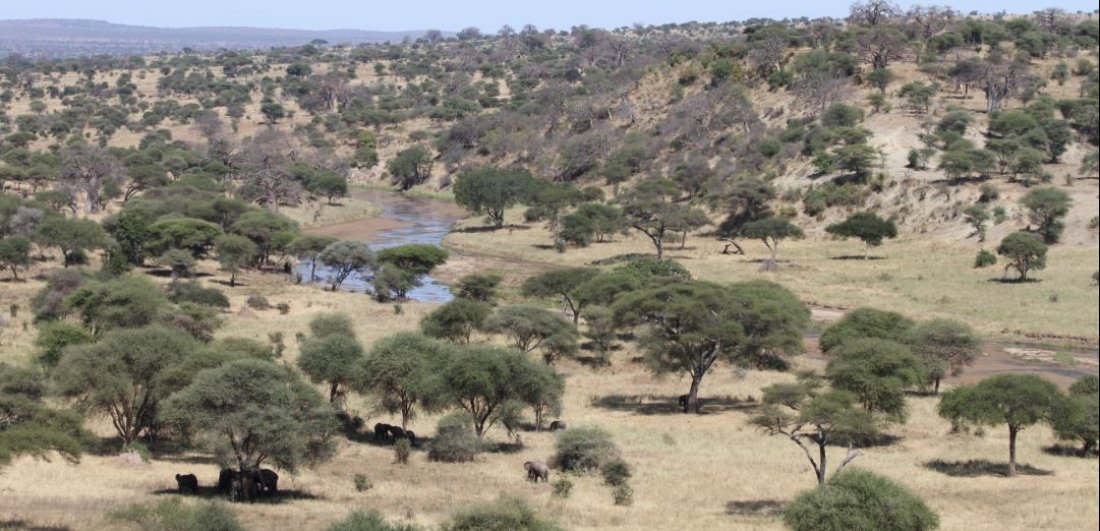 Elephants rest underneath the shade of a Baobab tree in Tarangire
Lake Manyara, our next stop, also brings fond memories. The pink horizons as flamingos merged with the line between water and sky is unforgettable, as was the lion pride we met by the water, with a buffalo kill.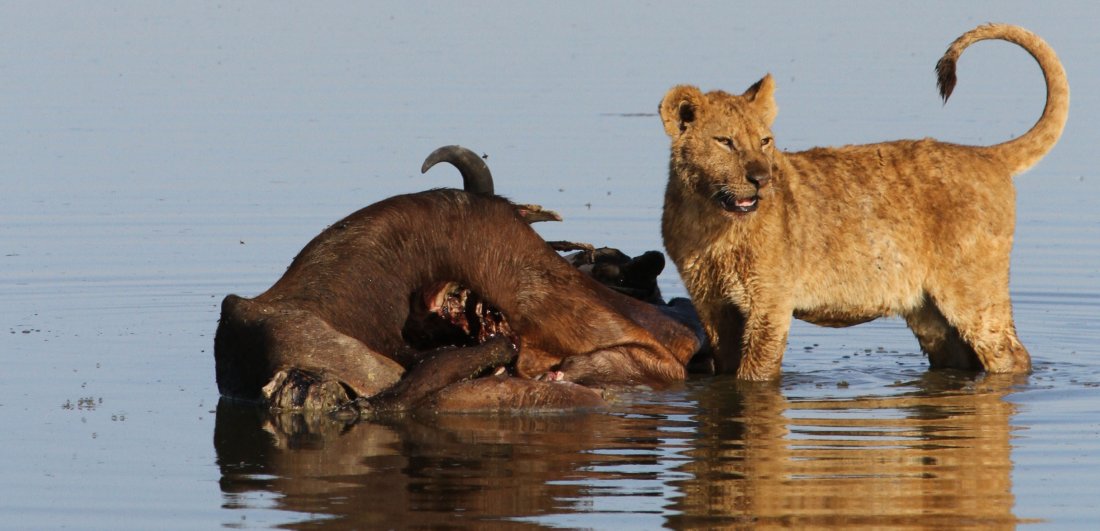 A lion cub stands next to a buffalo kill in Lake Manyara, Tanzania
The fight for survival had also taken a lion's life, which was a blatant reminder that life is a constant battle in the wild, be it for prey or predator.
Another highlight, which repeated itself throughout the trip as we stayed mostly in tented camps, was showering in water heated in a fire. You can just smell the ashes in the water. It felt like I was transported back to a time when Africa was first explored, adding to a sense of adventure I cannot quite describe.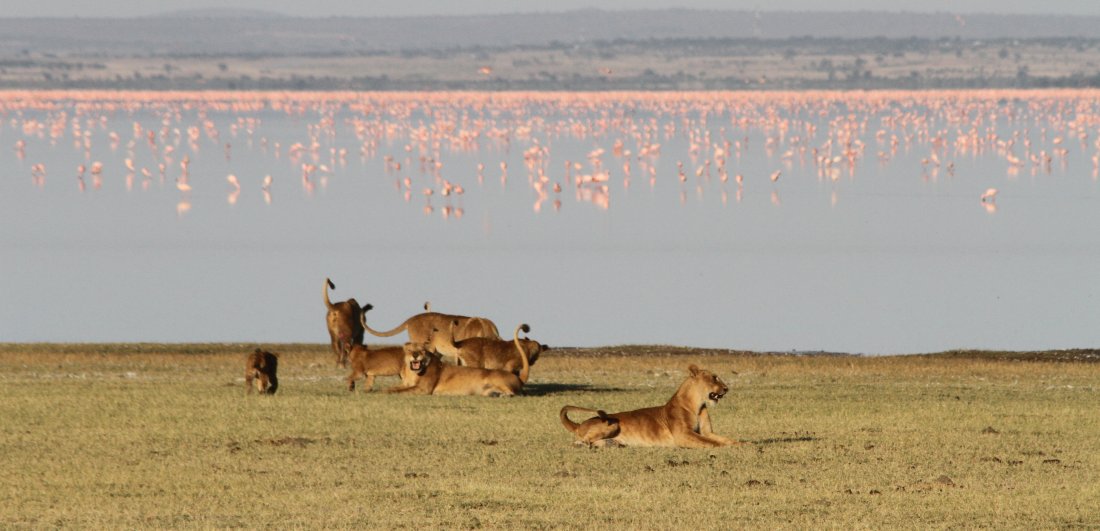 I spotted this lion pride resting close to the water's edge of the flamingo-filled Lake Manyara in Tanzania.
The Ngorongoro Crater was also amazing, not only for the wildlife, but because the environment changes so drastically! The camp we stayed at, Lemala Ngorongoro Tented Camp, was nothing short of amazing.
Set in a forest of huge acacia's, the area is absolutely magical. The cold that night was easily forgotten as the staff put hot water bags under the covers and prepared a delicious soup and dinner for us.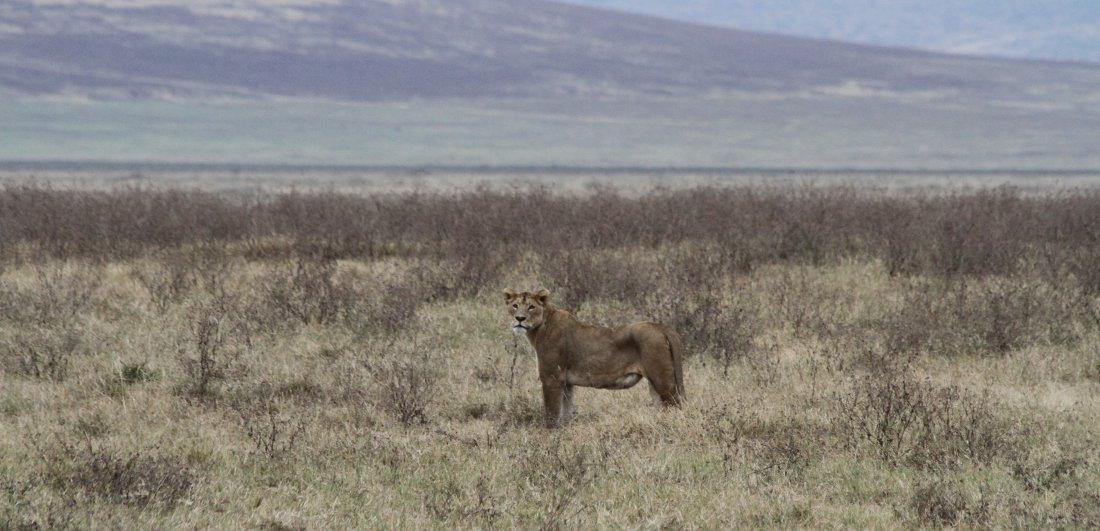 A lioness looks for her next meal in the long grass of the Ngorongoro Crater, Tanzania
On to the Serengeti, which awes by its mere expansion. Kilometres of plains land with clusters of acacia's around water points, rock formations and sunsets that take your breath away. The classical flat-topped acacia's emerge as an iconic and constant presence, each more beautifully shaped than the next.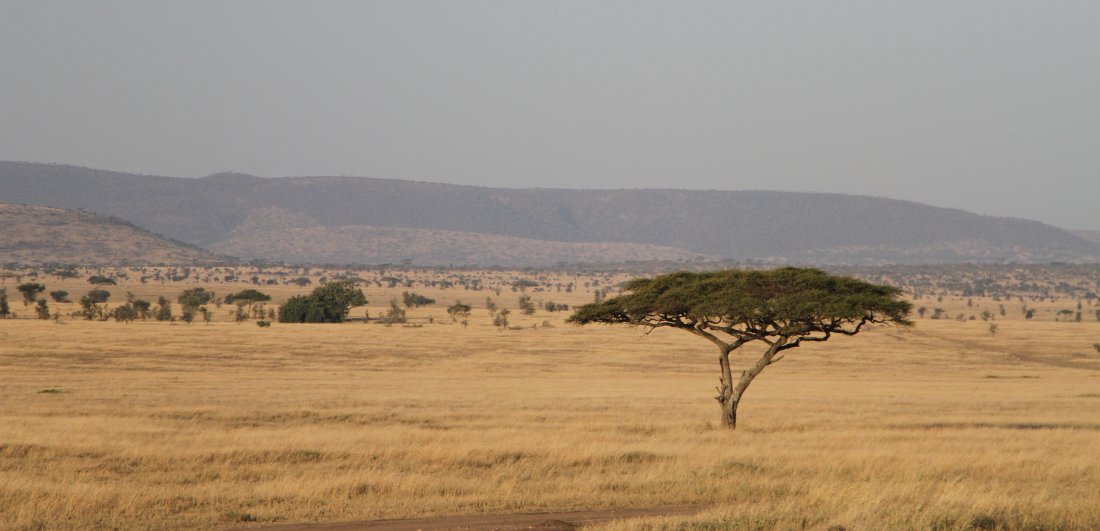 Acacia trees spread out all across the savannah plains in the Serengeti National Park, Tanzania
In the central Serengeti, the highlight was a large herd of elephants (more than a hundred) coming down the gentle slope of a small hill. This moment might have been topped by a leopard sighting, but unfortunately she did not want to come down from the tree.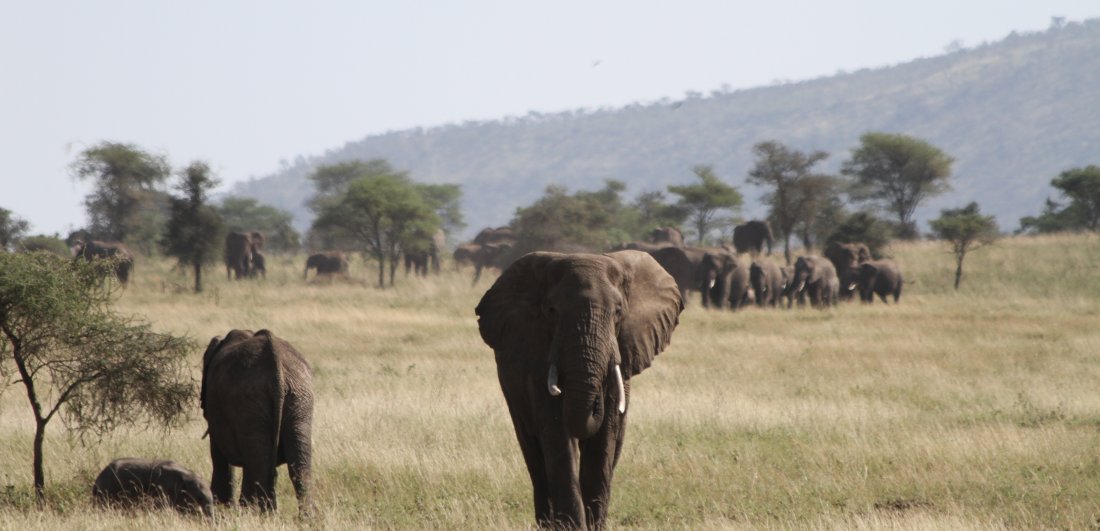 A male bull elephant leads the way as a large herd comes down from a small hill in the central Serengeti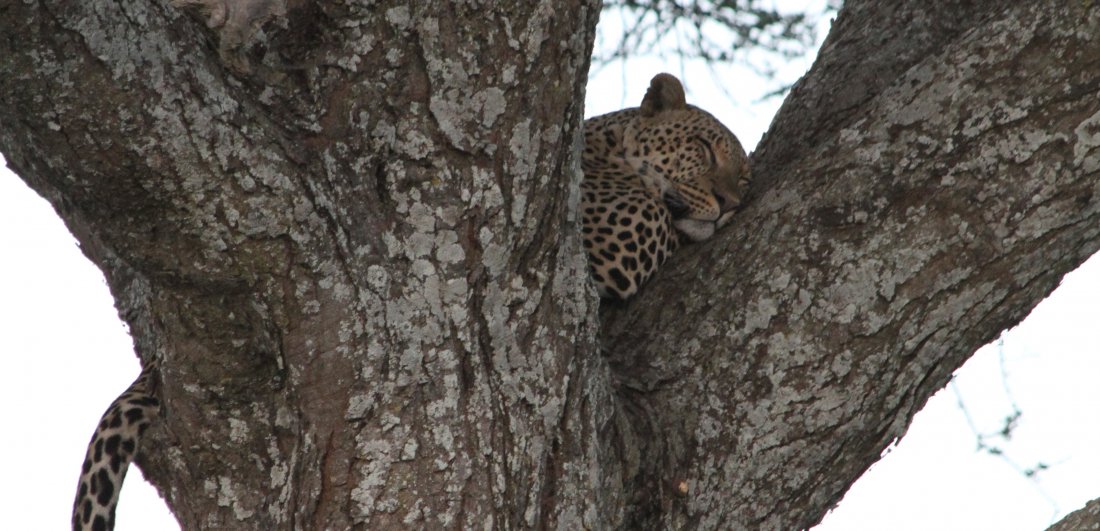 During a game drive, I spotted this leopard sleeping in an Acacia tree in the Serengeti National Park, Tanzania
Watching the sunrise as we left for Serengeti North on day 8 of the trip was also a memorable experience, not the least so because some of our group members broke the silence by singing the initial lines of the "Circle of Life" song from The Lion King. It was such an exact picture of the opening sunrise scene that it was almost impossible not to do it!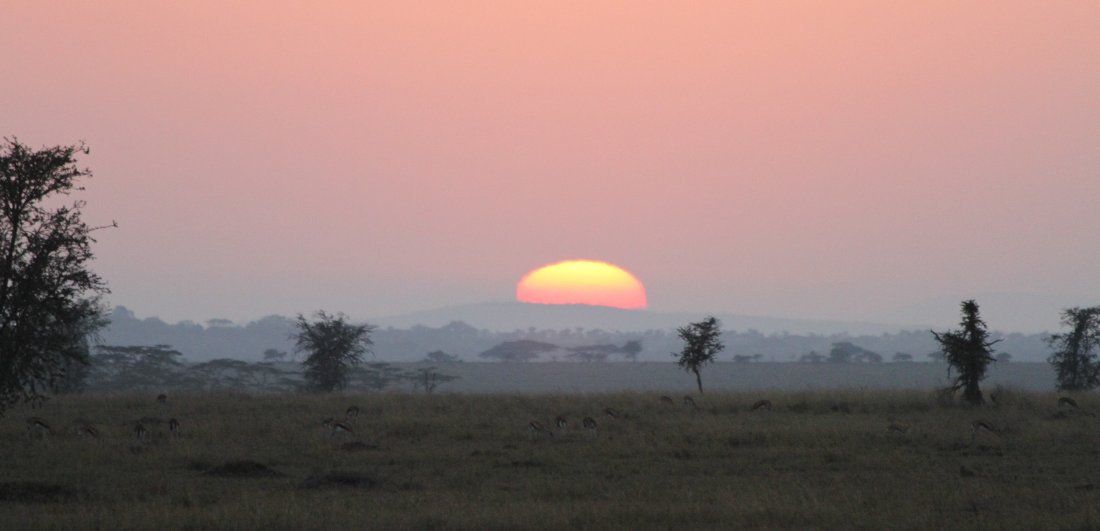 As the sun sets in the Serengeti National Park, I spotted Thomson's gazelles grazing on the open, grass plains.
Crossing the Serengeti to get to the north was also incredible. The sheer numbers of wildebeest and zebras migrating north were astounding.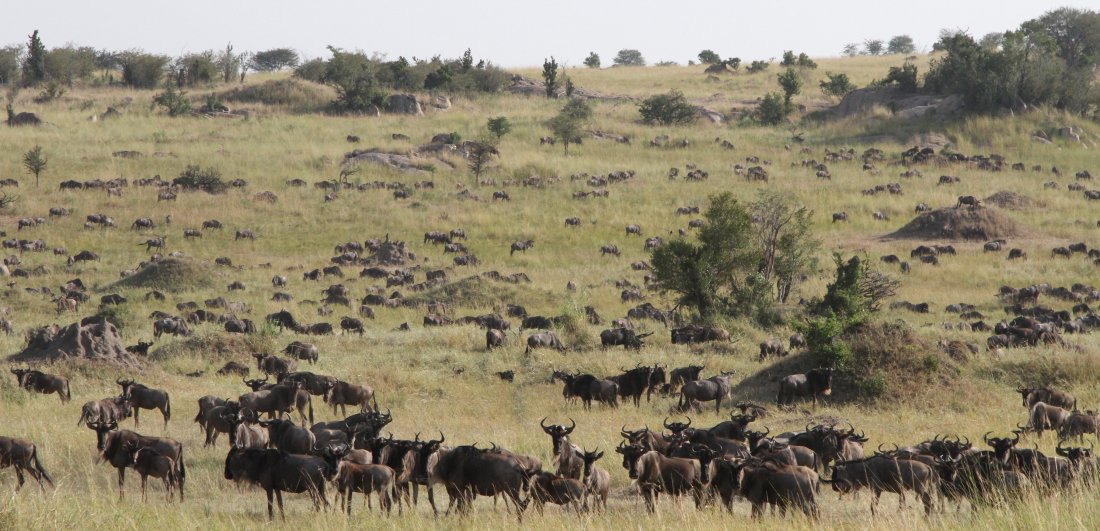 Hundreds of wildebeest congregate in the Serengeti National Park - keeping an eye out for any hungry predators
The Lobo region is so beautiful and so remote you feel like (and hope) you will never return to civilization. This region also provided my first ever cheetah sighting and some lions, among which was a magnificent young female. Sitting down for lunch beneath a tree that day was one of my favorite moments during the trip.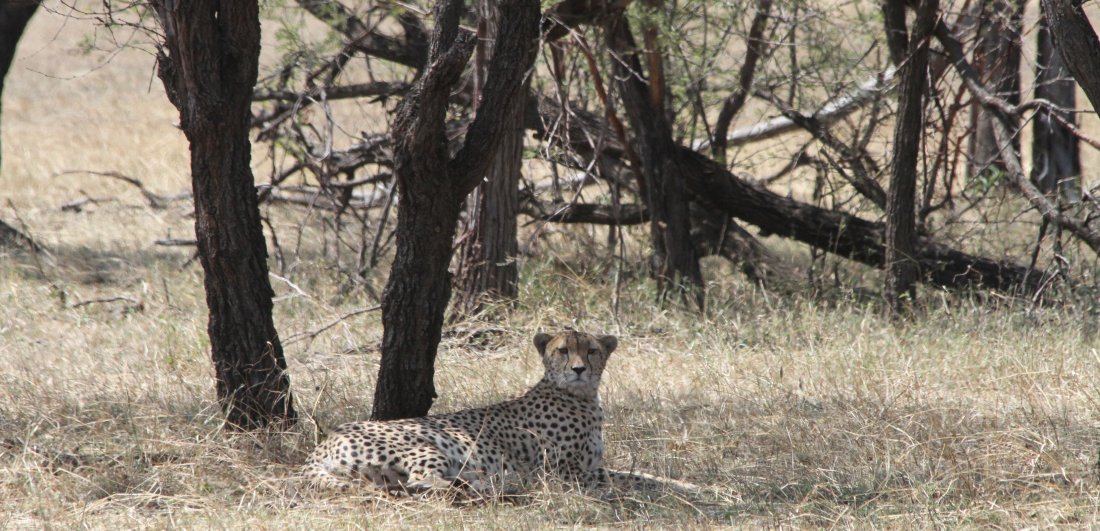 I was also fortunate enough to see my first cheetah resting underneath an Acacia tree in the Serengeti National Park, Tanzania
Arriving in the north to stay at the Lemala Mara Tented Camp to enjoy a drink by the fire and dinner under the stars was incredible. This camp is set close to the Mara River and the highlight was, of course, watching the wildebeest cross the river.
I was surprised to find out, however, that actually seeing the herds cross the rivers is not something guaranteed, as one might think. You might get there and sit all day and the herds might not decide to cross, but remain grazing on whichever side they are. I was lucky enough to see wildebeest and zebra crossing twice while there, and the first time was incredible.
"one of the wildest and most nature-connecting experiences of my life"
We saw the dust clouds from a distance and beelined for the crossing point, excitement building as we approached. We found a hidden spot then watched in amazement as hundreds or maybe thousands of wildebeest crossed the river. The noise alone is astonishing, their combined bellowing imitating that of a giant beehive.
Unfortunately (or fortunately, for those with a soft heart like mine), the river was not full and we didn't watch the ultimate wildebeest crossing spectacle: a croc attack. Even so, to be in the middle of thousands of wildebeest, watching the herds crossing from Kenya into Tanzania and back, accounted for one of the wildest and most nature-connecting experiences of my life. I truly felt part of creation that day.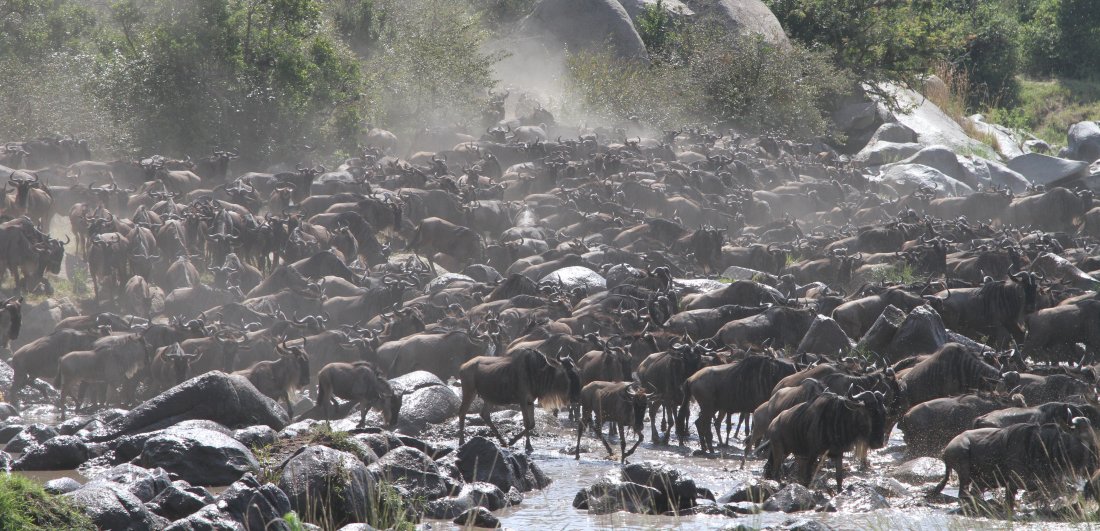 Thousands of wildebeest cross the Mara River to get to the greener grass plains of the Masai Mara National Reserve in Kenya
Departing a bit from wildlife, I have to highlight Lemala Kuria Hills. Set in on the slope of a rocky hill, this lodge is nothing short of fantastic. Carefully set, each lavish tent has a private deck with outdoor shower and private pool, and is completely secluded from other tents. The detailed decoration, superb gastronomy and, above all, extremely friendly staff made for a memorable stay.
Sundowners on top of a large rock in the lodge, where comfortable cushions were set and delicious snacks were prepared and served, were a reflection of the lodge's extreme quality of service.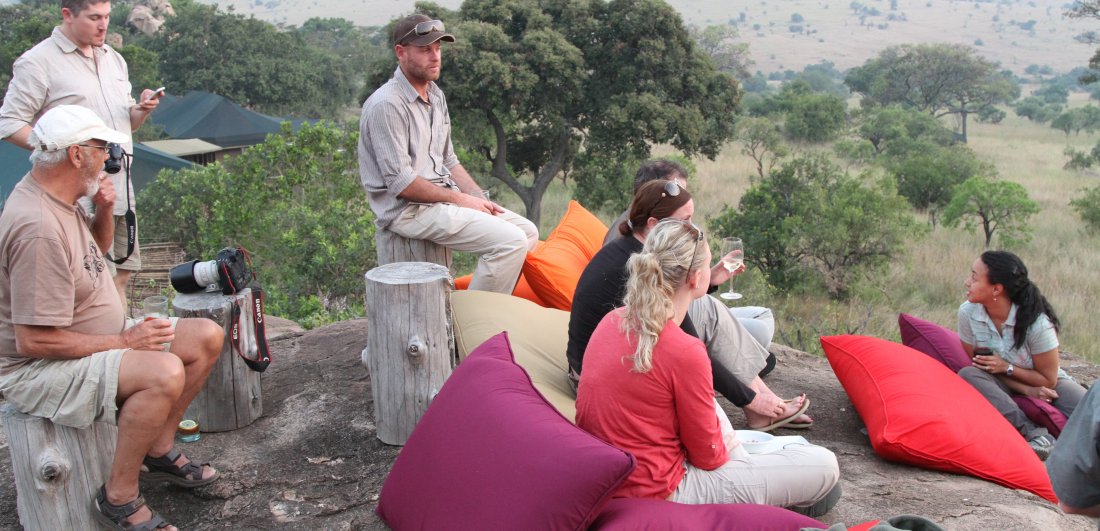 Enjoying a couple of sundowners on a rocky outcrop in the Serengeti as we look over the Serengeti Plains.
Back from Serengeti north, we spent our last night of safari in central Serengeti again, though at a different lodge. Again, the sunset claimed the top spot, tied with a sighting of three juvenile male giraffes, who showed off for a few minutes before running away in slow motion, as it always seems when giraffes move.
Amazing as this trip was, it did have one very bad point: that it came to an end. I would have happily been there for months, and possibly for the rest of my life. Before we boarded the plane back to Arusha, we were treated to one last sighting in central Serengeti, a side-striped jackal.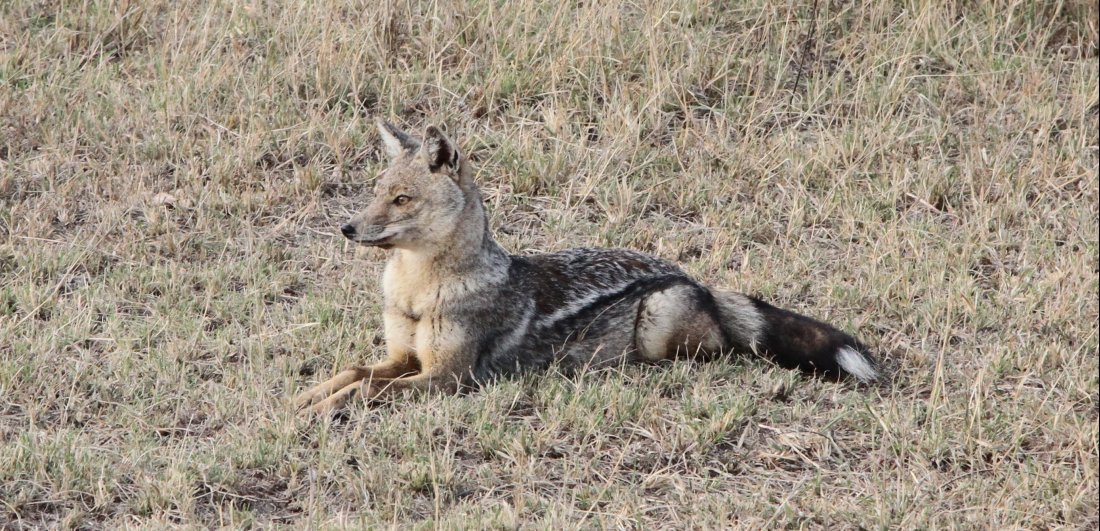 My last wildlife sighting of my Tanzania safari was that of a side-striped jackal in the central Serengeti
I was always fascinated by Africa, and each trip, instead of quenching my desire to be there, only makes me want more. Go to more countries, visit more parks, see more animals, stay at more tented camps. I hope to be back to Tanzania someday, for I feel one trip cannot possibly accommodate all that this country has to offer.