Gomoti Plains Camp
Okavango Delta, Botswana
Request price for Gomoti Plains Camp
The Gomoti Plains is located in a community run concession, on the edge of the Gomoti river system southeast of the Okavango Delta. The Gomoti tree is locally known as the water fig and grows alongside waterways in the Okavango delta. It's a smallish tree which sometimes grows no bigger than a bush. The area is known for its large concentrations of wildlife which thrive on the Gomoti plains and waterways. The Gomoti trees line the waterways and provide excellent cover for nesting water birds such as herons and storks.This exclusive area has been a well-kept secret for many years. The Gomoti region has been the local haunt of many of the older guides and Okavango dwellers who refer to it in nostalgic terms when they used to camp along this river system.
This new camp has 10 luxury tents which include 2 luxury family tents and 8 luxury double tents, all with en-suite bathroom facilities. In addition to day and night 4WD game drives, the camp offers water based activities such as mokoro excursions and motor boat trips.
Stay at Gomoti Plains Camp on these recommended safaris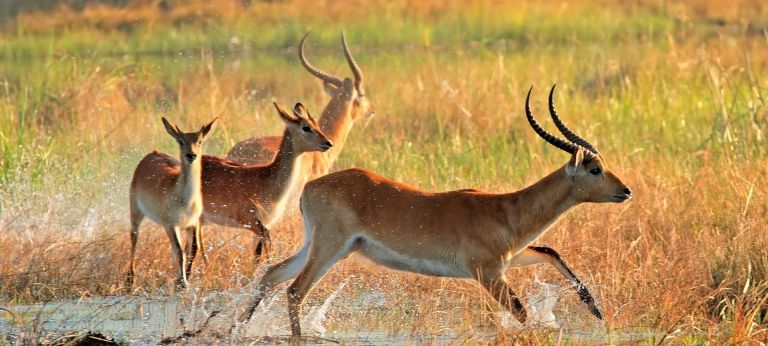 Tour the pristine habitats of Botswana and Zimbabwe's finest wildlife-rich assets with the twist of refined luxury
$ 6,450
£ 4,843
R 92,969
€ 5,686
per person
10 days
Gomoti Plains Camp Details
Activities offered at the lodge
Game drives (day)
Game drives (night)
Game walks
Mekoro safari
Birdwatching

Amenities
Dining/Communal Area
Free High-Speed Internet
Shuttle Bus Service
Suites
Swimming Pool
Wheelchair Access
Private vehicle (at additional cost)
Laundry

Included in your stay
Meals: All meals
Drinks: Most drinks (excludes certain spirits and wines)
Activities: 2 safari activities per day

Gomoti Plains Camp Map
Gomoti Plains Camp's location in Botswana on Google Maps
Ready to start your adventure?
Your tailor-made African holiday starts here...
Oops something went wrong.
We couldn't save your enquiry, sorry for that.
Please sent us an email on: info@discoverafrica.com
Apologies for the inconvenience.
Thank you, your enquiry has been received
Reference:
Click here
to read some of our client testimonials.