Forray into the Wilderness of Sabi Sands and Madikwe (7 days)
Forray into the Wilderness of Sabi Sands and Madikwe (7 days)
Our selection of South Africa's top safari lodges and game reserves are guaranteed to suit every taste and budget
A safari starts with a dream to experience an authentic African trip in the midst of wildlife and nature. Madikwe Game Reserve in the heart of the North West Province will exceed your safari expectations. Madikwe is a prime wildlife reserve with an excellent choice of accommodation options. It's also a unique family-friendly and malaria-free safari destination which caters for all holiday and business travel. Additionally, the reserve is home to the largest elephant population outside the Kruger National Park, including Black and White rhino and buffalo.
The rich diversity of vegetation ensures a wide range of game, whilst the topography offers ideal game viewing opportunities. You'll see Africa's super seven comprising lion, elephant, buffalo, rhino, leopard, hyena and cheetah. There's also wild dog, wildebeest, impala, warthog, giraffe, zebra, springbok which you may sight. Madikwe is an unrivalled destination for bird spotting, with about 340 different species.
Sabi Sands Private Game Reserve in the famous Kruger National Park is your next destination and is equally prolific. It's the ideal place to experience an incredible South African wildlife safari. With breathtaking scenery and luxury lodges, you can expect quality service, excellent cuisine and world-class facilities during your visit. It is the most prestigious game reserve in South Africa and is famous for incredible leopard sightings. With one of the richest game population in the country, the chances of seeing the Big Five are excellent. You will be guided by highly trained guides who can tell you everything about the reserve and the animals. This is an amazing experience and worth a trip to the bush.
Two perennial rivers, the Sabi and the Sand flow through the Kruger Park, thereby sustaining the diverse fauna and flora. As such, Sabi Sands offers the ultimate photographic safari because of its biodiversity. There is no fencing around Sabi Sands - so wildlife roams freely in huge, natural environment.
JanPeak
AprLow
MayLow
JunLow
JulLow
AugLow
SepLow
OctPeak
NovPeak
DecPeak
Costing tip: When comparing with other companies, remember most of them only show the low season rate. How pricing works >
What to Expect on This Safari
This popular itinerary can be customised to match your budget and travel dates by adding/removing a few days or selecting different lodges
Welcome to the haven of amazing biodiversity
Depart from OR Tambo International Airport on a scheduled flight direct into the Madikwe Game Reserve, on arrival at the airstrip you'll be met and transferred to the Royal Madikwe Luxury Safari Lodge. Situated in the malaria-free Madikwe Game Reserve, It is the ideal safari destination because close encounters with the Big Five as well as endangered wild dogs and cheetah are common.
Royal Madikwe offers an unforgettable luxury safari experience for families, friends or couples yearning to be immersed in the African bush.
This portion of the package includes luxury accommodation, all meals (including the option of a high tea), soft drinks, water, beer and house wine. Game drives, transfers to-and-from airstrips and two game-related activities per day are also included. Enjoy guided game drives through the park, but please note that children under the age of five will not be permitted to join.
Encounter the thrill and adventure of a bush walk with a highly qualified and experienced guide. Walking in the footsteps of wild animals grants you the opportunity to learn more about them as well as the flora that make up this unique wildlife reserve in Southern Africa.
A private, romantic dinner under the African night sky with sparkling lights hanging in the dark is the perfect way to enjoy your special safari experience. Add a couples massage in the privacy of your suite or on your private deck to rejuvenate your mind and body, or join a cultural exploration to learn about the local heritage and history.
Meals: All meals and drinks
Transport: Included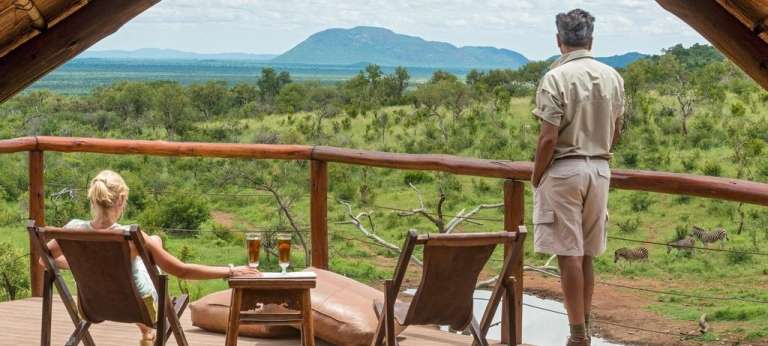 Enjoy a truly quintessential African safari
Take a direct flight from Madikwe to Sabi Sands Game Reserve. Residing amidst indigenous bush is Savanna Private Game Lodge in Sabi Sands. This will be your home for the next three nights with all your meals included.
Situated in the internationally renowned Sabi Sands, this exclusive five-star lodge supplies endless photographic memories. The lodge's suites are equipped with their own private plunge pools and set on a crafted wooden deck overlooking private waterholes for an exclusive game viewing experience.
A truly stellar safari experience with highly qualified guides, makes for unbelievable sightings of a vast array of animal and bird species. Highlights include two game drives per day, game walks, community projects and a village tour.
Meals: All meals and drinks
Transport: Included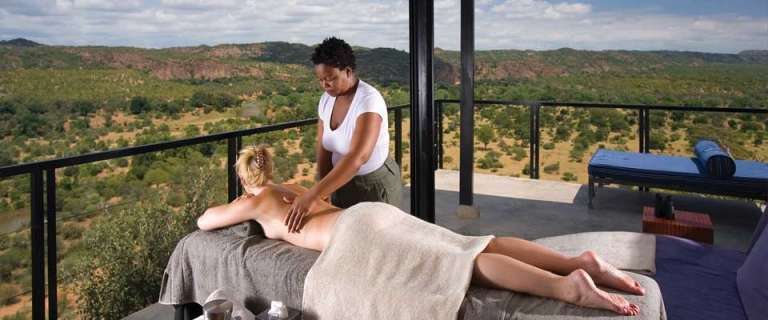 Sala kakhuhle! - have a safe trip!
After your breakfast and scheduled activities in the Savanna Private Game Reserve, you'll be transported to the airstrip for your flight back to OR Tambo International Airport.
Recommended Iteniraries and Tours