Pilanesberg National Park safaris, tours & holiday packages
Only two hours' drive from Johannesburg, this lovely 550 sq km reserve supports a wealth of wildlife within a collapsed volcanic crater abutting the famous Sun City complex
Free of malaria and home to all the Big Five, the Pilanesberg Game Reserve is the closest game reserve of comparable quality to the heavily populated province of Gauteng, which incorporates Johannesburg, Soweto and Pretoria, as well as the continent's busiest international airport. It offers excellent general game viewing, with elephant and white rhino both very common, alongside a good selection of antelope and other ungulates.
P.S. If you're looking for Pilanesberg accommodation specials, we've got some great travel deals for you.
Popular Pilanesberg National Park safaris
These popular itineraries can be customised to match your budget and travel dates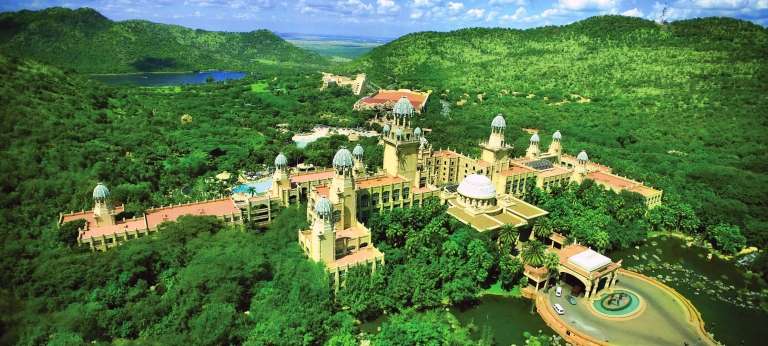 From Sun City's hedonistic pleasures to the majesty of nature at Madikwe Game Reserve, this journey combines the best of two very different worlds
$ 2,462
£ 1,931
R 42,095
€ 2,116
per person
6 days
Philip Briggs says
"When I had an office job in Johannesburg many years ago, I lived for occasional weekend breaks to the Pilanesberg - then a rather underrated reserve that offered reliably fantastic birdwatching, and treated me to some very exciting encounters with elephant and rhino."
More on Pilanesberg National Park holidays
Predators are less conspicuous but the odds of lion and leopard sightings improve hugely if you join a guided night drive in an open 4x4 – also an opportunity to see brown hyena, aardwolf and other nocturnal rarities. For birdwatchers, an impressive checklist of 350 species includes several western specials at the eastern extent of their range, notably crimson-breasted shrike, pied babbler, and shaft-tailed whydah.
A popular weekend destination for urbanites seeking a quick bush break, Pilanesberg also makes the ideal short getaway for business travellers to Johannesburg or Pretoria with a day or two to spare. Facilities range from an affordable rest camp catering mainly to self-drivers to several upmarket lodges geared more towards those seeking a packager inclusive of guided game drives.
Bordering the reserve, and its polar opposite in terms of authenticity, the legendary Lost City is an over-the-top child-friendly entertainment complex comprising a casino, a world-class golf course, many shops and cinemas, and several upmarket hotels.
Pilanesberg National Park Map
Pilanesberg National Park's location on Google Maps

Frequently Asked Questions about Pilanesberg National Park
What vaccinations should I get?
This is all dependant on the countries that you will be visitng and due to the status of certain vaccinations changing at times, please consult our experts before getting vaccines. go there.
Is it okay to drink the water?
In some parts of Southern Africa it is safe to drink the tap water, however it is highly recommended to stick to bottled water (mostly supplied) during your trip as even drinkable African water is completely different in taste and… go there.
Reviews on our Pilanesberg National Park safaris
All details were covered, all staff and food excellent, service was perfect - would highly recommend for sure.
Ron
from United States of America
We visited Madikwe and Madagascar for our honeymoon in 2014. It was a dream trip that was made possible by Discover Africa. The best part of their service was the ease with which it was handled. Their website is very clear and full of…
Lexi Spheris
from South Africa
Excellent combination of calling to chat about plans and details, followed up with emailing of detailed information. Made all arrangements easy for us from the actual booking to payment procedures, exchange rate recommendations, visa advice,…
Saldrix
from South Africa
Two male lions tried to take on an older female lion. The alpha male recently died and they were trying to take over his pride. The female lion was having none of it and while the males tried to tag team her; she swatted her massive paw at…
Kay Oczkowski
from United States of America
Waking up at 5:00 am to a bumpy ride all the way to a hidden hyena den, was something I'll never forget. But the absolute best part was when the 1 month old cub peeked his head out to say hello. It was heartbreakingly cute.
Alana Krutoyarsky
from United States of America
I want to once again thank Discover Africa for everything. Mozambique was off-the-hook! We are already planning to go back.
Nthabiseng Mahlase
from South Africa