Pemba tours & holiday packages
Gateway to the paradisiacal beaches and islands of of northern Mozambique
Custom Pemba
Describe your dream trip
We'll source the best value
Book when you're ready
This attractive old port town of Pemba houses northern Mozambique's only international airport. Nearby attraction includes lovely Wimbe Beach, the Quirimba Islands, and Niassa Game Reserve.
Founded in 1904 on the site of an older Portuguese fort, Pemba is a rather characterful town set on the northwest tip of the peninsula that forms the southern entrance to large, deep, semi-enclosed natural harbour of Pemba Bay. The town itself is of less interest than Wimbe Beach, 5km east of the centre, on a waterfront lined with small hotels, restaurants, dive shops and other tourist-oriented facilities. Wide, sandy and clean, this palm-lined beach is protected by a coral reef that guarantees safe swimming as well as offering good snorkelling seasonally.
The beach can be quite busy during the weekends – it is one of the few in where local day trippers congregate in large numbers. For those seeking a quieter beach experience, Murrébué, about 12km out of town, host several more low-key tourist developments.
Popular Pemba safaris
These popular itineraries can be customised to match your budget and travel dates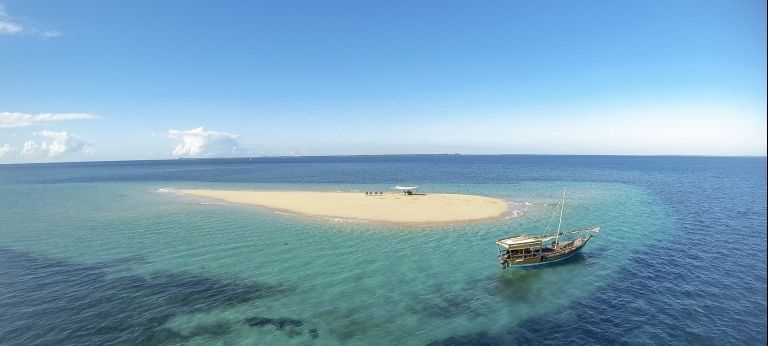 Spend 5 romantic nights at Ibo Island Lodge, situated in the magical Quirimbas Archipelago in Northern Mozambique.
$ 2,910
£ 2,276
R 48,940
€ 2,492
per person
6 days
Philip Briggs says
"Pemba has always been one of my favourite towns in Mozambique, less run down than most, and a great place to chill out. And a visit there wouldn't be complete without crossing by boat or air to magical Ibo Island. "
More on Pemba holidays
In terms of international tourism, Pemba is less important in itself than as the gateway to the Quirimba Archipelago, a string of 32 small offshore Indian Ocean islands, 11 of which are gazetted as the Quirimbas National Park. One of the premier upmarket (and most honeymoon-friendly) retreats anywhere in Mozambique, the Quirimbas are dotted with lovely isolated beaches and the surrounding reefs offer thrilling snorkelling and diving.
One offshore island accessible to travellers on more of a budget is Ibo, site of a small eponymous town established in the late 15th century, and is today lined with semi-ruinous Portuguese palaces and villas, as well as a church built in 1580 and a star-shaped dating to 1791.
Pemba is also the main air gateway for the vast and remote Niassa Reserve, a little-visited but utterly alluring safari destination that extends over 42000 sq km along the Tanzanian border.
Pemba Map
Pemba's location on Google Maps

Frequently Asked Questions about Pemba
What vaccinations should I get?
This is all dependant on the countries that you will be visitng and due to the status of certain vaccinations changing at times, please consult our experts before getting vaccines. go there.
Is it okay to drink the water?
In some parts of Southern Africa it is safe to drink the tap water, however it is highly recommended to stick to bottled water (mostly supplied) during your trip as even drinkable African water is completely different in taste and… go there.