Nairobi National Park safaris, tours & holiday packages
Superb wildlife viewing below the city skyscrapers
Custom Nairobi National Park
Describe your dream trip
We'll source the best value
Book when you're ready
Despite being a mere seven kilometres from the centre of Nairobi, this uniquely accessible national park offers a quality quick-fix safari experience.
Nairobi National Park is a true paradox. Despite being situated on the southeastern outskirts of East Africa's most populous, cosmopolitan and industrialised city, it is a genuinely worthwhile and uncontrived safari destination. Unfenced on two sides, it allows free movement of wildlife from the nearby Athi Plains (though not in and out of the city, for obvious reasons). The absence of elephants means it is not a true Big Five park, but still, it is one of the best places in East Africa for spotting black rhinos and witnessing lion kills. In addition, the 117-square-kilometre sanctuary is home to most other plains wildlife species associated with southern Kenya, including large seasonal herds of wildebeest, zebra and gazelle, as well as lower densities of eland, giraffe and impala.
Popular Nairobi National Park safaris
These popular itineraries can be customised to match your budget and travel dates
Explore the jewel in Kenya's crown; the wildlife-rich Masai Mara National Reserve
$ 2,625
£ 2,103
R 44,663
€ 2,334
per person
6 days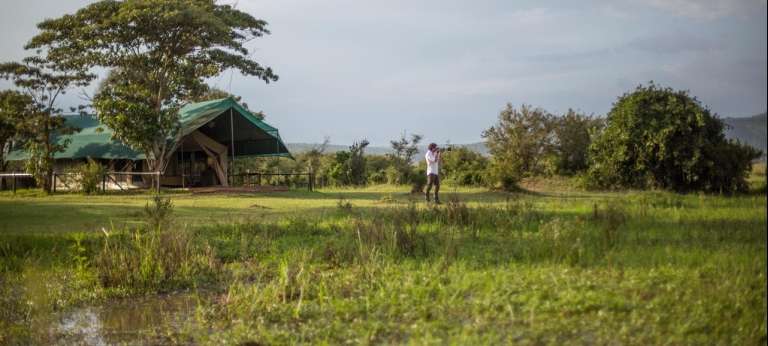 Why not visit more than one exciting African destination? See the Great Migration, Victoria Falls and wildlife-rich Hwange National Park
Price on Request
per person
10 days
Philip Briggs says
"A great little park, and don't let the safari snobs tell you otherwise. I've had some exceptional wildlife sightings here and would recommend a day pautrip highly to anybody with time to kill in Nairobi."
More on Nairobi National Park holidays
Nairobi National Park can be highly rewarding for birdwatchers, with more than 400 species recorded. It is particularly good for ostrich, secretary bird, southern ground-hornbill and other large grassland species such as francolins and bustards.
At the park's main entrance, a 'Safari Walk' offers visitors the opportunity to see several rare charismatic species in large modern enclosures, one of which is the mountain bongo, a massive forest antelope whose range is now restricted to Kenya. It is also a good place to see lions, leopards and black rhinos, which are resident here.
Also of interest is the orphanage run by the David Sheldrick Wildlife Trust near the Mbagathi Gate entrance to the park. You can take a tour of this facility and get the opportunity to interact with orphaned elephants that are in the process of being hand-reared for release into the wild.
Nairobi National Park Map
Nairobi National Park's location on Google Maps

Frequently Asked Questions about Nairobi National Park
What vaccinations should I get?
This is all dependant on the countries that you will be visitng and due to the status of certain vaccinations changing at times, please consult our experts before getting vaccines. go there.
Is it okay to drink the water?
In some parts of Southern Africa it is safe to drink the tap water, however it is highly recommended to stick to bottled water (mostly supplied) during your trip as even drinkable African water is completely different in taste and… go there.
Reviews on our Nairobi National Park safaris
Two male lions tried to take on an older female lion. The alpha male recently died and they were trying to take over his pride. The female lion was having none of it and while the males tried to tag team her; she swatted her massive paw at…
Kay Oczkowski
from United States of America