Lake Natron tours & holiday packages
The Rift Valley at its most thrillingly primeval
Custom Lake Natron
Describe your dream trip
We'll source the best value
Book when you're ready
Fringed by salt-encrusted flats and black volcanic protrusions, this remote and brooding 1,040-square-kilometre soda lake lies below the active volcano Ol Doinyo Lengai.
Among the most primal and inhospitable of African landscapes, Lake Natron is a shallow sliver of hyper-alkaline water best known as the primary nursing ground for East Africa's 2.5 million lesser flamingos. The southern lakeshore is towered over by the volcanic Ol Doinyo Lengai, the Maasai 'Mountain of God'.
The landmark rises from the low-lying Rift Valley floor to an altitude of 2,960 metres, its harsh black contours softened, in a bizarre parody of the snows of Kilimanjaro, by a glistening layer of fine white volcanic ash. Better known for its scenery than its limited wildlife, Lake Natron is quite good for birding, as the shallows host a profusion of waders and other waterbirds.
Megan Warrington says
"Lake Natron is one of the most awe-inspiring spots in the East African Rift valley, one whose harsh angles and primal mood somehow evoke the violent tectonic forces that shaped this part of Africa."
More on Lake Natron holidays
Fit and adventurous travellers are attracted to Natron to climb Ol Doinyo Lengai, which has experienced almost continuous low-key volcanic activity in historic times, with the most recent recorded eruption occurring in 2008. The steep and shadeless hike to the summit offers spectacular views across the Rift Valley, but it is the bleakly lunar expanse of the crater, with its ash cones, lava pools and steam vents, that most impresses.
Also of great interest are the Engare Sero Human Footprints, which are the oldest known spoor made by Homo sapiens. The set of 58 human footprints was made around 120,000 years ago by hunter-gatherers as they traipsed through a field of muddy ash from Lengai, and were discovered by a Maasai herdsman in 1998.
Between Lakes Manyara and Natron, the little-visited Engaruka Ruins are all that remain of a 500-year-old terraced city and irrigation system constructed by a mysterious Late Iron Age culture.
Lake Natron Map
Lake Natron's location on Google Maps

Frequently Asked Questions about Lake Natron
What vaccinations should I get?
This is all dependant on the countries that you will be visitng and due to the status of certain vaccinations changing at times, please consult our experts before getting vaccines. go there.
Is it okay to drink the water?
In some parts of Southern Africa it is safe to drink the tap water, however it is highly recommended to stick to bottled water (mostly supplied) during your trip as even drinkable African water is completely different in taste and… go there.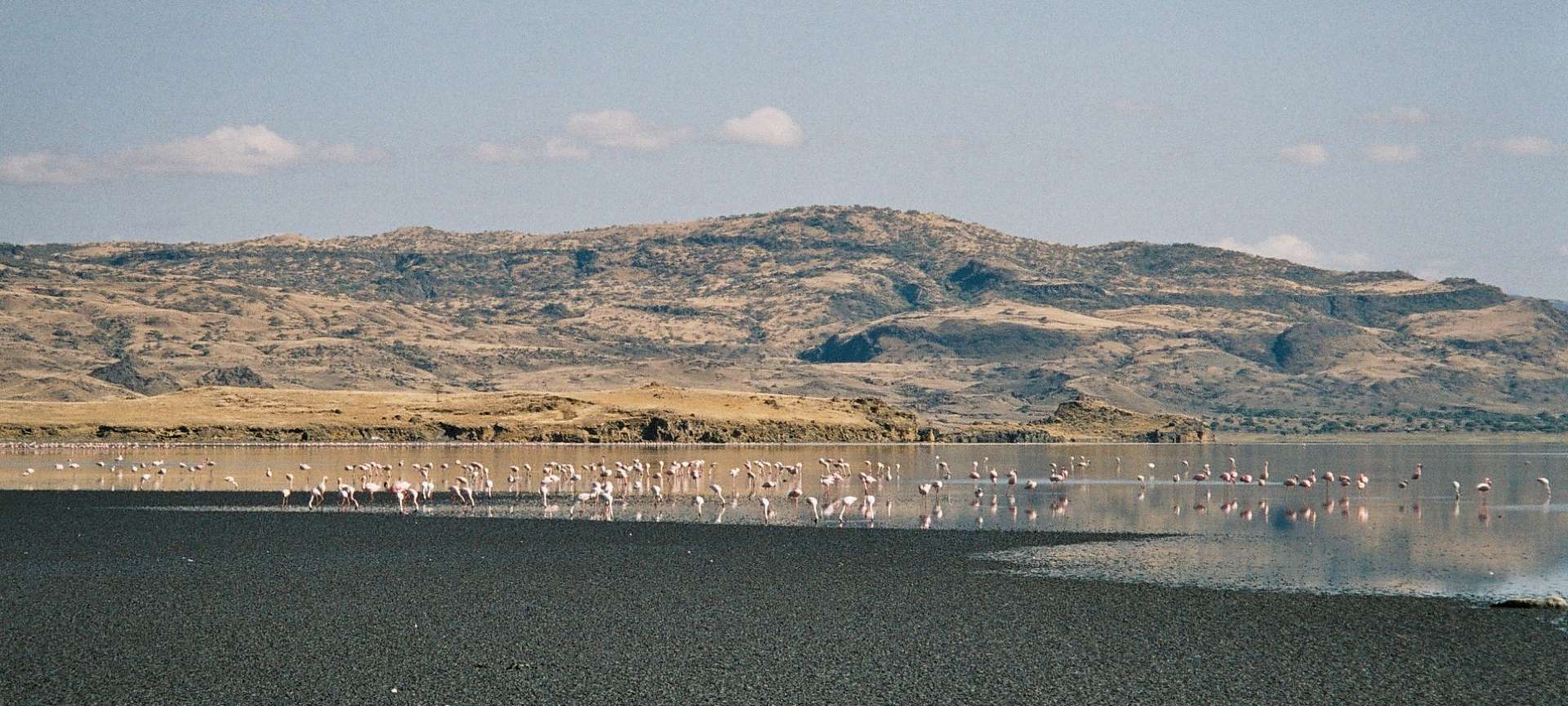 Reviews on our Lake Natron safaris
This was my first safari. I didn't expect to be so pampered. Everything was first class. We had everything provided for us before even asking. We had a dedicated team at our service. Megan was on call whenever we needed something and she…
Saada
from Nigeria
Tanya was an absolute delight to deal with. From the first phone call she was extremely polite, professional and very eager to facilitate my requests regarding our safari. Our 3 nights at the V & A Hotel were fabulous and Motswari Game…
Debbie
from Australia
Perfectly tailor-made tours that take all your wishes and requests into consideration. All my expectations were beyond fulfilled.
Henrik Wetterstrand
from Sweden
Living afar and trusting in an organisation with whom you have no previous knowledge can lead to feeling of mistrust and wondering whether what we have paid for actually exists. A little more proactive communication would have eased those…
Tony Russell
I just wanted to thank Discover Africa and Karl Svendsen - the safari was great - we saw many more animals than expected including cheetah, leopard, many lions and even a three-day old elephant calf. Additionally, we had our own hippo…
Margaret Dean
Planning the trip was managed extremely well especially since travel was at a busy time of year and not much notice was given. All communication was by email, and was responded to promptly and efficiently. Different options were provided…
Suzanne McKeen