Lake Naivasha safaris, tours & holiday packages
An ideal lakeside first stop out of Nairobi
Custom Lake Naivasha National Park
Describe your dream trip
We'll source the best value
Book when you're ready
Wildlife-rich Lake Naivasha is both a scenic stop in its own right and a great base for hikes to Hell's Gate National Park and Mount Longonot.
Set in the Rift Valley floor 90 kilometres northwest of Nairobi, Naivasha is a near-circular freshwater lake fringed by lush forests of fever trees and overlooked by the ragged-edged of the volcanic Mount Longonot. Though it is accorded no official protection, the lake supports a fair amount of indigenous wildlife. Giraffe, hippo and waterbuck may be seen almost anywhere on the lakeshore, which is also one of the most rewarding bird sites in Kenya, offering an opportunity for the experienced to clock up 100 species before breakfast. Conspicuous water-associated birds include African fish eagle and the great white pelican, while noisy Fischer's and yellow-collared lovebirds are among the most decorative and common woodland species.
Popular Lake Naivasha National Park safaris
These popular itineraries can be customised to match your budget and travel dates

It's easy to see why so many visitors flock to Kenya from around the world to experience a truly unique African adventure in one of the world's most pristine safari destinations.
Price on Request
per person
12 days
Philip Briggs says
"When last I held an office job in London, between African trips in the late 1980s, Lake Naivasha was the first image that sprung to mind when I thought about returning to Kenya. It didn't disappoint me when eventually I did return, and it hasn't on several repeat visits."
More on Lake Naivasha National Park holidays
Crescent Island, the partially submerged rim of an extinct volcanic caldera, is home to giraffe, buffalo and plenty of birds. Elsamere, named after the lioness Elsa of Born Free fame, and once the lakeside home of controversial naturalist Joy Adamson, is now a low-key museum and guesthouse serving lavish buffet teas in a forest patch inhabited by handsome black-and-white colobus monkeys.
Only slightly further afield, Hell's Gate National Park protects a geologically dramatic 68-square-kilometre landscape where visitors can walk or bicycle unguided through seasonally impressive herds of big game, including buffalo, giraffe, zebra, various antelope species and very occasionally elephant and lion. Also protected as a national park, the 2,776-metre-high Mount Longonot, which last erupted in the 1860s, can be ascended and descended in around three hours. The private Green Crater Lake Sanctuary, named after the alkaline Songasoi Crater Lake, attracts huge aggregations of lesser flamingo, especially from June to August. Guided game walks are on offer, as are bird walks around the crater rim.
Lake Naivasha National Park Map
Lake Naivasha National Park's location on Google Maps

Frequently Asked Questions about Lake Naivasha National Park
What vaccinations should I get?
This is all dependant on the countries that you will be visitng and due to the status of certain vaccinations changing at times, please consult our experts before getting vaccines. go there.
Is it okay to drink the water?
In some parts of Southern Africa it is safe to drink the tap water, however it is highly recommended to stick to bottled water (mostly supplied) during your trip as even drinkable African water is completely different in taste and… go there.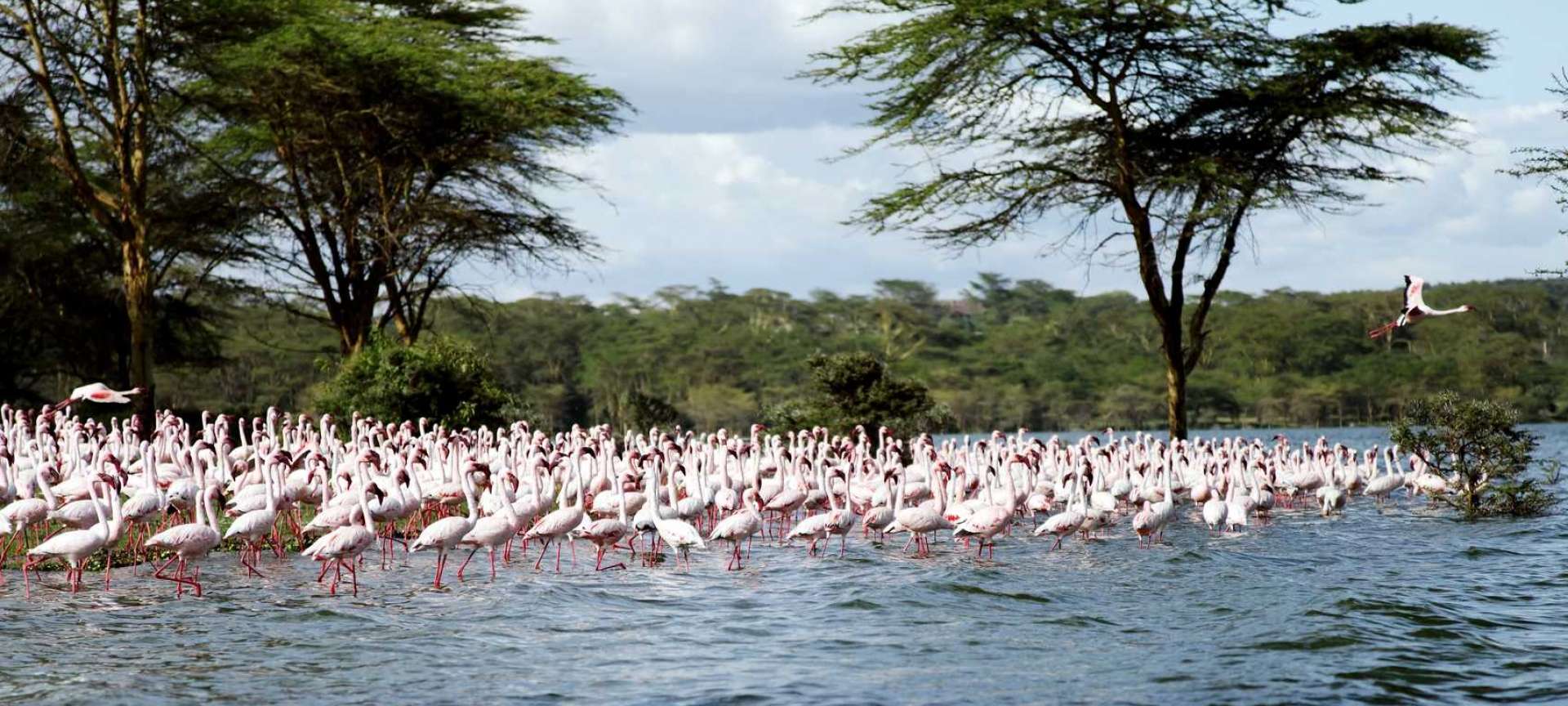 Reviews on our Lake Naivasha National Park safaris
This was my first safari. I didn't expect to be so pampered. Everything was first class. We had everything provided for us before even asking. We had a dedicated team at our service. Megan was on call whenever we needed something and she…
Saada
from Nigeria
Tanya was an absolute delight to deal with. From the first phone call she was extremely polite, professional and very eager to facilitate my requests regarding our safari. Our 3 nights at the V & A Hotel were fabulous and Motswari Game…
Debbie
from Australia
Perfectly tailor-made tours that take all your wishes and requests into consideration. All my expectations were beyond fulfilled.
Henrik Wetterstrand
from Sweden
Living afar and trusting in an organisation with whom you have no previous knowledge can lead to feeling of mistrust and wondering whether what we have paid for actually exists. A little more proactive communication would have eased those…
Tony Russell
I just wanted to thank Discover Africa and Karl Svendsen - the safari was great - we saw many more animals than expected including cheetah, leopard, many lions and even a three-day old elephant calf. Additionally, we had our own hippo…
Margaret Dean
Planning the trip was managed extremely well especially since travel was at a busy time of year and not much notice was given. All communication was by email, and was responded to promptly and efficiently. Different options were provided…
Suzanne McKeen