Arusha National Park safaris, tours & holiday packages
This is where you can find a volcanic mountain, craters, forest and blue-and-green lakes turned pink by thousands of flamingos
Arusha National Park is just north of the bustling town that shares its name, and it's a great little park to visit if you arrive on an early morning flight; the entrance gate is between Kilimanjaro International Airport and the town, so you can get straight into your safari from the airport. Overnighting closer to the park is an even better idea, with Hatari Lodge and Shangazi House being good choices.
The park has three main attractions, Mount Meru and the Meru Crater, Ngurdoto Crater, and the Momela lakes. Arusha National Park is also the place on Tanzania's northern safari circuit where the energetic black-and-white colobus monkeys are easiest to see.
Popular Arusha National Park safaris
These popular itineraries can be customised to match your budget and travel dates
Megan Warrington says
"Arusha National Park is a great start to any safari; if you have an extra day or even half a day, it's better to visit the park than waste time in town. I wouldn't end a safari here but certainly recommend it as a starting point, or even climbing Meru."
More on Arusha National Park holidays
The park is dominated by Meru Crater and the summit of Mount Meru in the west. Meru is the second highest mountain in Tanzania at 4,566 metres above sea level, and serious climbers use it as preparation for climbing Kilimanjaro.
Ngurdoto Crater towards the south-east is open savannah and this is where most of the wildlife is found – big buffalo herds, giraffe and if you go out early in the morning or late in the afternoon you might even be lucky enough to bump into spotted hyena or leopard.
In the north-eastern part of the park are the Momela lakes – water-filled craters that attract flamingo and other water birds. From the north-eastern side of Mount Meru, you also have great views of Mount Kilimanjaro towards the east when the clouds lift.
Arusha National Park Map
Arusha National Park's location on Google Maps
Frequently Asked Questions about Arusha National Park
What vaccinations should I get?
This is all dependant on the countries that you will be visitng and due to the status of certain vaccinations changing at times, please consult our experts before getting vaccines. go there.
Is it okay to drink the water?
In some parts of Southern Africa it is safe to drink the tap water, however it is highly recommended to stick to bottled water (mostly supplied) during your trip as even drinkable African water is completely different in taste and… go there.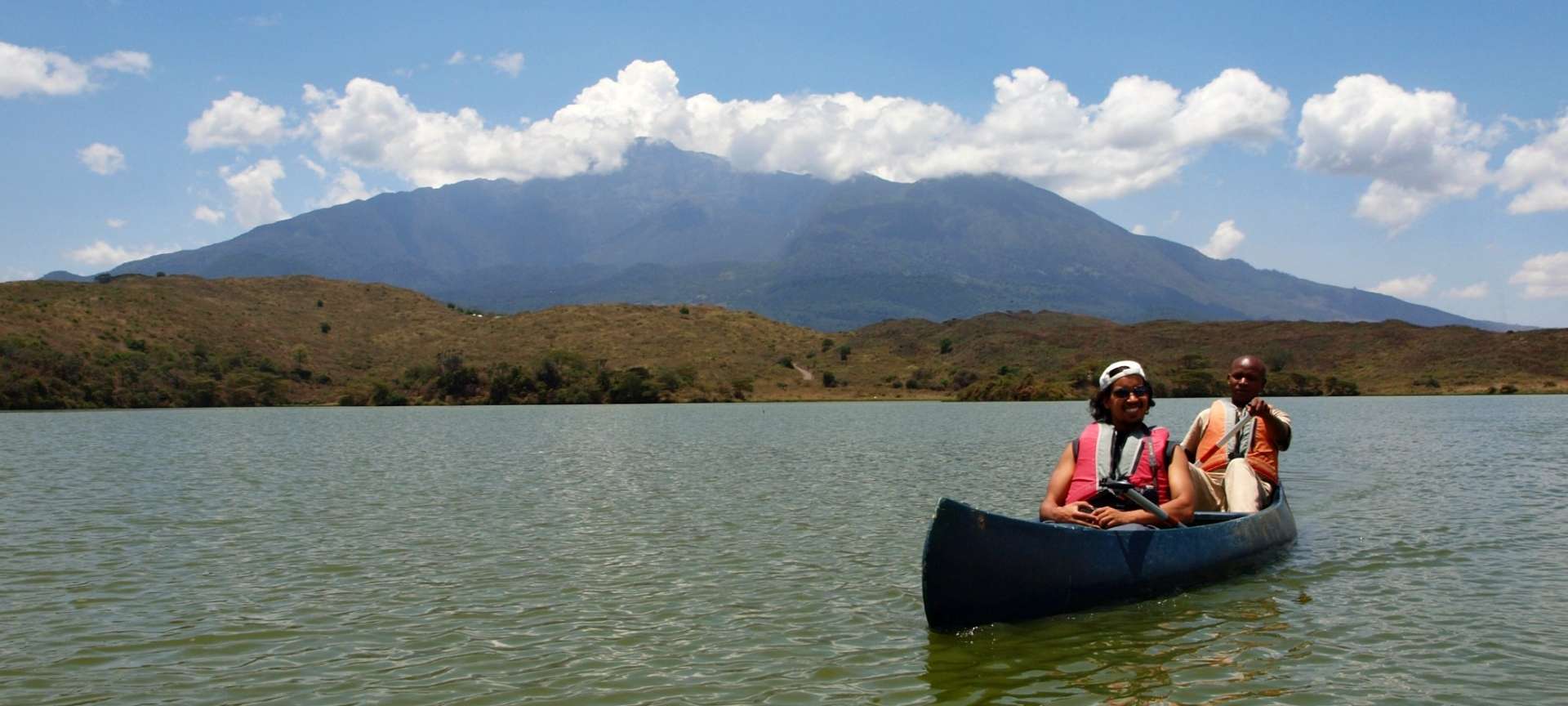 Reviews on our Arusha National Park safaris
Since the beginning, agents and staff of Discover Africa already work in a professional way for me to plan the trip. Their quick responses to my questions help us a lot before departing from our place to the Africa continent. When we were…
YT
from Hong Kong
This was my first safari. I didn't expect to be so pampered. Everything was first class. We had everything provided for us before even asking. We had a dedicated team at our service. Megan was on call whenever we needed something and she…
Saada
from Nigeria
Tanya was an absolute delight to deal with. From the first phone call she was extremely polite, professional and very eager to facilitate my requests regarding our safari. Our 3 nights at the V & A Hotel were fabulous and Motswari Game…
Debbie
from Australia
Perfectly tailor-made tours that take all your wishes and requests into consideration. All my expectations were beyond fulfilled.
Henrik Wetterstrand
from Sweden
Living afar and trusting in an organisation with whom you have no previous knowledge can lead to feeling of mistrust and wondering whether what we have paid for actually exists. A little more proactive communication would have eased those…
Tony Russell
I just wanted to thank Discover Africa and Karl Svendsen - the safari was great - we saw many more animals than expected including cheetah, leopard, many lions and even a three-day old elephant calf. Additionally, we had our own hippo…
Margaret Dean