WATCH: Botswana vs South Africa

Trying to choose between Southern Africa's most prolific wildlife destinations is no easy task.
South Africa and Botswana are neighboring countries that both offer superb wildlife sightings and top class camps and lodges, but there are a number of differences to keep in mind when choosing one over the other. We've compiled some of our top highlights for each country. Take a look:
While South Africa offers the perfect combination of beach, city and bush, Botswana's treasured wilderness is a source of national pride. Which would you choose?
Botswana

South Africa

Wildlife

Big Five in abundance, with rhinos having been reintroduced into Northern Botswana quite recently
Endangered species such as the red lechwe and wild dog are heavily protected
National parks and reserve unfenced, which allows for greater movement of species
Game viewing good all year round
Zebra migration is the second largest of its kind on the planet

Big Five concentrated in bigger parks such as the Kruger National Park (and surrounds), Phinda Game Reserve and iSimangaliso Wetland Park
Parks are fenced off, resulting in higher concentrations of big predators such as leopard and lion
Game viewing is great all year round too
Striking and abundant marine life including the Marine Big Five (Cape fur seal, Southern right whale, dolphin, African penguin and Great White Shark)

Photography

Multiple photography-geared safari tour operators with specialised photographic knowledge and experience
Preferred destination for wildlife photography
The 'green season' or 'low season' can be a barrier to wildlife photography during the spring and summer months

Both landscape and wildlife photography is excellent due to the variety of ecosystems and landscapes
Heavy rainfall during summer in the Kruger National Park can hamper photography

Type of traveller

Group travel with friends and family (although malaria is a risk)
Adventurous travellers will enjoy the Makgadikgadi Pans
Couples/honeymooners who prefer solitude
Value-for-money and luxury travellers
Geared towards serious safari-goers and return visitors

Preferred destination for family travel due to low-risk and malaria-free options. Fun activities for the whole family
Self-drive enthusiasts who want adventure and stunning scenery
Solo travellers due to the cosmopolitan nature of the country
Great for first-time visitors to Africa

Accommodation

Several premium and luxury lodges; can be pricey but settings are unrivalled
Renowned for service excellence

An equal mix of budget to luxury accommodation options

Language, culture and history

A stable economy and relatively peaceful political history
Less of a divide between social groups
SeTswana is the official language, but English is spoken almost everywhere except in extremely rural areas
Ancient San culture reflected in archeological discoveries

Tumultuous political history
Very diverse array of cultures and people
Eleven official languages with English being the main language of communication. Almost everyone can communicate in English
Multiple UNESCO World Heritage Sites and areas of great historical, archeological and paleontological significance

Experiences

Landlocked so beach safaris are not possible, but the magnificent Okavango Delta and Chobe River allows for water-based safari activities
Photographic safaris
Big Five safaris
Birding
Walking safaris
Honeymoon safaris

Bush, beach and city experiences. There is never want of things to do
Big Five safaris
Birding (particularly in the Kruger National Park and Garden Route)
LGBT tours
Walking safaris
Self-drive adventures
Camping and road trips are very popular
Romantic, honeymoon safaris are preferred

Best time to travel

Best experiences somewhat limited to the dry season between July and October

Travel is great all year round due to the variation in climate throughout the country

Transport

Remote so fly-in transfers are a must as the roads are prone to flooding and are not as well developed as in South Africa
Ideally positioned for extended vacation at prime destinations like Victoria Falls

Excellent self-drive facilities as well as adequate public transport available
A variety of airports make international as well as national travel easy and efficient

Malaria risk

Medium to low risk in the southern regions
High risk in Northern Botswana

Malaria present in the east, including Kruger National Park
No malaria present in the majority of the country
Try these safaris: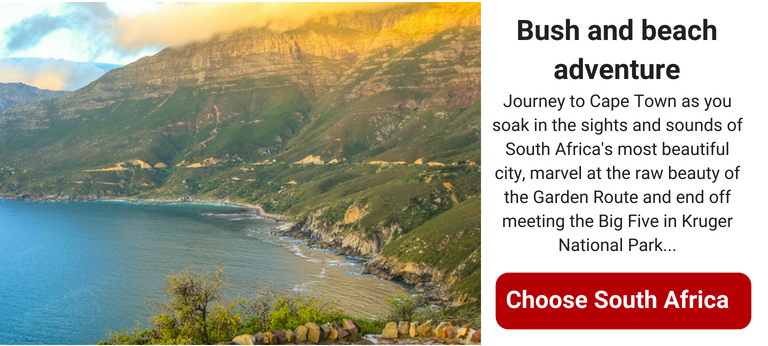 OR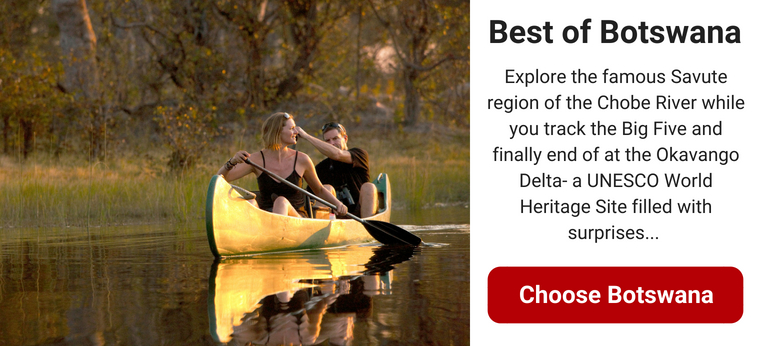 Having trouble deciding? Contact us for travel advice about how to create an itinerary that will take you to both destinations.
Previous Article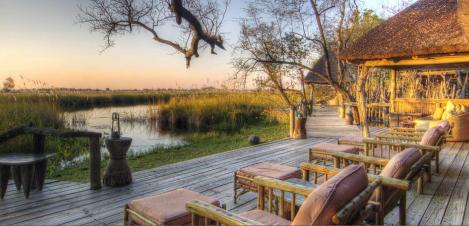 Next Article