It doesn't have to be either/or but take a look at the differences between Namibia and Botswana that may just change your mind about your dream safari in Africa.
The huge variety of places to stay in Namibia – from excellent campsites to five-star lodges – appeals to broader range of travellers, while Botswana caters largely for the high-end market.
Of the two countries, Namibia has a wider diversity of more startling landscapes, from a deep canyon in the south to rugged mountains in the north, the cracked salt pans of Etosha and the towering dunes of Sossusvlei and the dramatic Skeleton Coast.
Namibia's close proximity to Botswana makes it an excellent destination for an extended Southern Africa safari. In fact, the Caprivi Strip borders Botswana and offers a very different landscape to the rest of the country. Take a look:
Namibia
Botswana
Wildlife

Only four of the Big Five (no buffalo)
Highest concentration of Black rhino in Africa
350 bird species and more
Game-viewing slightly more challenging, but Etosha National Park is excellent for wildlife enthusiasts
Marine Big Five; Southern right whale, dolphins, Cape fur seal, African penguins, Great white shark

All of the Big Five as well as many endangered species like the African wild dog, red lechwe and Slaty egret (bird)
Zebra migration is a wildlife highlight

Photography

The bizarre and often surreal landscapes of Namibia attract photographers from all over the world
Etosha National Park is a great place for wildlife photography

Botswana's pristine, well-maintained national parks and reserves are brilliant for photography. Best time to go for photography is between June and October

Type of traveller

Romantics who want to experience something different on a couple safari
Groups who love road trips
Budget-conscious travellers
Family travel
Adventure-seekers

Wildlife-based travellers
Photographers
Family travel
Group travellers
Active travellers

Accommodation

Secluded, intimate accommodation
Variety of cost-effective camps and lodges
Camping on a self-drive safari is very popular due to well-maintained facilities and safety

Premium, high-end accommodation is readily available
Expect superb service and knowledgeable guides and trackers

Language, culture & history

Rather small percentage of English speakers
Colonial-German and African dialects are the most widely spoken languages

Almost everyone speaks English
Stable political history and economy

Experiences

Self-drive safaris are the most popular experience in Namibia
Culture and history-based tours are great in Namibia
Camping
Stargazing is exceptional in Namibia
Sandboarding, quad biking, skydiving, fishing

Water and land-based game viewing
Fishing on the Zambezi and Chobe rivers
Horseback safaris in the Makgadigadi National Park and Selinda Game Reserve
'Glamping' and mobile camping
Walking safaris

Best time to travel

Travel is possible all year round, but the summer months can be unbearably hot
June to October for game-viewing

June to October is the best time for game-viewing

Transport

Most locations are remote so this destination is more suited to self-drive as fly-in transport is pricey
National roads are well maintained but off-road driving requires a certain level of skill

Fly-in transfers are popular due to the vast expanses of wilderness
Self-drive in Botswana is not as popular as in Namibia due to the difficulties in navigating across the watery landscape in Northern Botswana

Malaria risk

Most regions in the south are malaria-free, including Etosha National Park and areas along the coast

Medium to high risk of malaria in most parts of the country
Time to choose: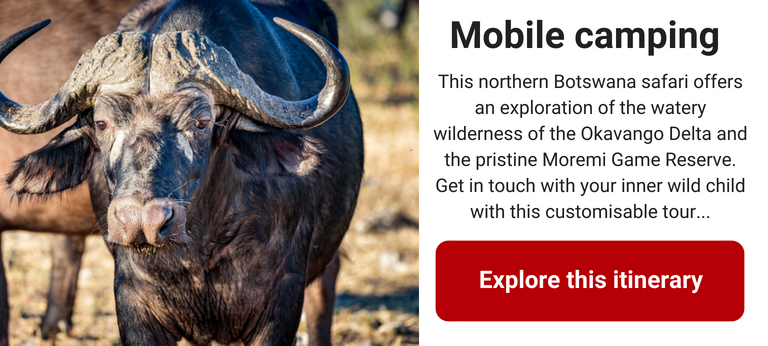 OR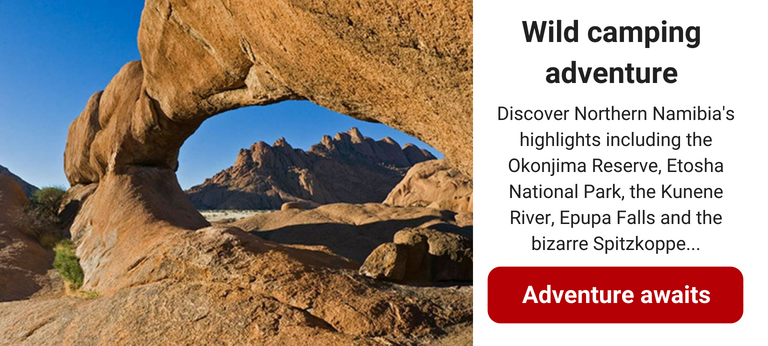 Having trouble deciding? Contact us for travel advice about how to create an itinerary that will take you to both destinations.
---