African wanderings - Andre's Malawi safari experience [Traveller story]
I had the pleasure of chatting to Andre Holland, who ventured on a 15-day Malawi safari in March 2015, coming to grips with the local culture, spending time on it's remote neighboring islands and exploring its wildlife-rich game reserves. Andre put together this awesome video of his exploits in the…


I had the pleasure of chatting to Andre Holland, who ventured on a 15-day Malawi safari in March 2015, coming to grips with the local culture, spending time on it's remote neighboring islands and exploring its wildlife-rich game reserves.
Andre put together this awesome video of his exploits in the landlocked Southeastern African country, bordered by Zambia, Tanzania and Mozambique.
African Wanderings Part I: Malawi from Andre Holland.
Q&A with Andre Holland
Was this your first time in Malawi?
Yes, this was my first trip to Malawi, but I'll definitely go back! This wasn't my first visit to an African country though, I've been to Botswana, Zambia, Namibia, Democratic Republic of the Congo, Rwanda and Madagascar before.
Who did you travel with?
For the first couple of days it was just myself and my girlfriend, Taryn. It was her 30th birthday, which we got to enjoy on Mumbo Island with not another soul on the island! Pretty cool having a deserted island for a 30th birthday!
We later met up with another couple, Jacqui and Richard, on the mainland at Cape Maclear. Clearly it was far too romantic a trip - Rich dropped his knee soon after their return to South Africa and they are now engaged.
"Pretty cool having a deserted island for a 30th birthday!"
Why Malawi?
What inspired you to visit this African country?
My girlfriend, Taryn, works as an Economic Development Consultant and has been living in Blantyre, Malawi, for a couple of months prior to our trip. She planned the Malawi safari and so the trip was all about going to visit her and being there for the big 3-0.
Which African countries would you like to visit next?
I'm keen to explore West Africa a bit more. I'd also like to visit Gabon and the island jewels of Sao Tome and Principe.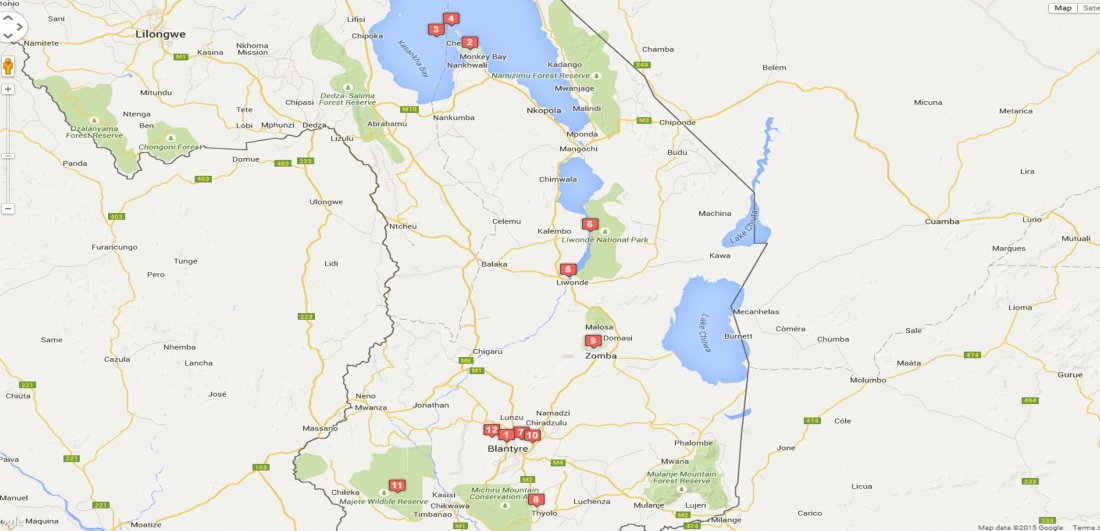 Andre's Malawi safari route map
Andre's Malawi safari notes
Andre's Malawi safari started on 3 March 2015 and ended on 18 March 2015.

After arriving in Blantyre, Andre headed to Cape Maclear via public transport - bus, minibus and road transfers.

From Cape Maclear, Andre and Taryn kayaked out to Mumbo Island (a 10km paddle) for three days.

Andre and Taryn headed back to Cape Maclear for a night, meeting Jacqui and Richard before kayaking out to Dombwe Island (about 5km).

The group headed back to Cape Maclear, where they hired a rental car, a Toyota RAV4, for the rest of the trip.

They then travelled to the Hippo View Lodge near Liwonde, where they left the car and took a one hour boat transfer north on the Shire River to the Mvuu Camp in Liwonde National Park for two nights.

The group took a boat transfer back to the Hippo View Lodge, collected their vehicle, travelled through Zomba and overnighted back in Blantyre.

They then day-tripped to the Satemwa Tea and Coffee Estate in Thyolo district, before heading back to Zomba, spending a night at the Zomba Forest Lodge.
Andre and co headed back to Blantyre and enjoyed their last day trip down to Majete Wildlife Reserve, south-west of Blantyre.
Getting to Blantyre
According to Skyscanner, South African Airways, Kenya Airways and Ethiopian Airlines are the most common airlines that fly to Blantyre's Chileka International Airport.
South Africa offers eight flights per week to Blantyre every week from O.R. Tambo International Airport, which lasts for two and a half hours, while flights from Kenya's Jomo Kenyatta International Airport last four hours each, including one stop at Malawi's capital city, Lilongwe.
A flight from Ethiopia's Addis Ababa Bole International Airport to the Chileka International Airport will likely last for five hours.