Disclaimer: This post is for informational purposes only, travel at your own risk. No information here should be taken as medical advice. The information in this article has been gathered from multiple sources. You should consult with your local government health site and the department of health site or tourism for the country you plan to visit before making any decisions.
---
The coronavirus has the world in a panic state, but it's not the first outbreak. There have been other major outbreaks in recent history such as ebola, swine flu (H1N1 virus), MERS and SARS. The major difference is that this outbreak is affecting first world countries the most and this has people worried. There are even reports of celebrities who have contracted the virus. The NBA has even suspended its season because of the virus.
Some of the questions that may be running you through your mind right now:


I have already planned/booked my trip. What do I do now?
Should I cancel my trip or delay it?

How do I brave it out?
What other alternatives do I have?

Well, we will try and help you answer some of these questions.
Where can you still travel to?

As stated at the beginning of this post the most affected places are China and first world countries in Europe. So if you were planning a trip to Europe or Asia you should probably cancel or delay your trip. Not all Countries in Asia or Europe are no go zones but China, Italy, Iran, South Korea, France, Spain, and Germany are the worst affected countries. Even the USA is number eight when it comes to the worst-affected countries. The countries that the SEC has listed as level 3 on their travel notices page are South Korea, Italy, China and Iran, this either means you should reconsider travelling there right now or Avoid going there as countries such as the USA will not allow entry from people from those regions, more on that here.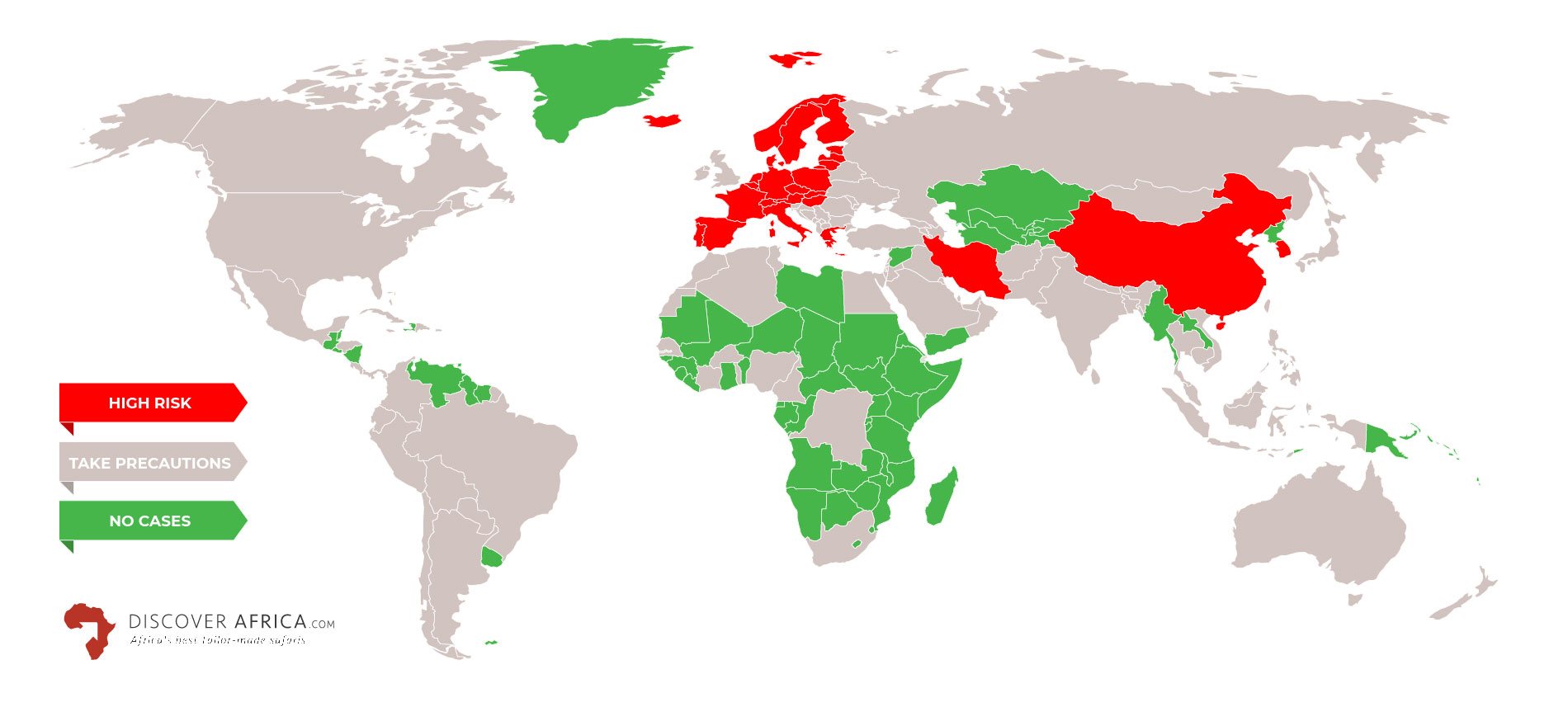 For the latest map of confirmed cases go here.

So if you have been paying attention you will notice there is no African country on the list of no go zones and worst-affected countries. There is no African country even when you count the top 20 worst-affected countries.
Now here are five good reasons you should book an African Holiday


1. Flights are cheap right now (You don't have to travel now but booking now will save you money for when you do travel when the coronavirus outbreak is over).
2. Holiday packages are available at discount prices
3. It is safer to be in Africa right now than in Europe, Asia, and even America.
4. You get more value for your money in Africa due to favourable exchange rates for first world currencies.
5. If you book a safari holiday you are out in nature away from crowded areas.
Have questions about travelling at the moment?
Don't hesitate to speak to us directly. Our travel experts are ready to help.
Coronavirus safety tips while travelling
If you are flying choose window seats as sitting there gives you the lowest risk of coming into contact with an infected passenger.

Wash your hands with soap and water for at least 20 seconds or use hand sanitizer with at least 60% alcohol. Wash your hands after sneezing, coughing, blowing your nose, going to the toilet and before you eat.

Avoid travelling if you are sick as a weakened immune system makes you more susceptible.

Avoid contact with sick people.

Don't touch your eyes, nose or mouth with unwashed hands.

Ensure your mouth and throat are moist and never dry by regularly drinking water.

If you come into contact with a metal/plastic surface at an airport or public place wash your hands as it is said that the virus can survive anything from 3 hours to 3 days according to research published by the National Institute of Health (NIH).
For more information read our detailed guide on the coronavirus.
Africa Travel Specials
Special 1 - Botswana/Zimbabwe Camps:
Stay for a minimum of 6 nights at one or a combination of these camps and pay only $381 per person per night including all meals, beverages, laundry, 2 game activities per day)
Normal prices would be:
For travel in April – May 2020: $704 (saving of $323 pp per night)
For travel in June – October 2020: $961 (saving of $580 pp per night)
Terms & Conditions
1. Once in a lifetime special rates apply for any new bookings made and confirmed until the end April for travel within 2020
2. Cannot be combined with other special offers 3.
PAX need to book/confirm in April and make FULL payment within 2 weeks of confirming
4. We reserve the right to end this special as and when we want
5. PAX who book on this Once in a lifetime special can postpone their trip (as per our Coronavirus amendment policy), but they will have to pay the difference in price between Once in a lifetime special rates and the standard rate for 2021
Special 2 - Zambezi Queen:
25% saving for travel between 01 April – 31 May 2020
Zambezi Queen
Special Rate of R15 990 per person sharing for a 2 night stay
Normal price: R21 364 per person sharing – saving of 25%
Rates include:
· 2 nights onboard the Zambezi Queen with all meals, soft drinks, water, tea/coffee, local beers and wine
· Water-based game viewing and bird watching on tender boats
· A land-based cultural tour of a local village
· Road transfers from Kasane Airport
Special 3 - Botswana Camps:
Stay for 10 nights in Botswana at a combination of camps and only pay for 9 and get a free helicopter transfer
Package as follows:
2 nights at Chobe Game Lodge
2 nights at Camp Okavango
3 nights at Camp Moremi
3 nights at Leroo La Tau
Botswana Travel Specials

| | | |
| --- | --- | --- |
| WHEN | DISCOUNTED PRICE | NORMAL PRICE |
| April - June 2020 | $6550 per person sharing | $9090 per person sharing |
| July - October | $8395 per person sharing | $11590 per person sharing |
Includes:
· All intercamp flights and transfers starting in Kasane and ending in Maun
· 10 nights accommodation with all meals, local drinks, laundry services and two game activities per day
· One Scenic Helicopter transfer


Some reliable sources:

1. https://www.who.int/emergencies/diseases/novel-coronavirus-2019/advice-for-public
2. https://www.worldometers.info/coronavirus/
3. https://www.hopkinsmedicine.org/health/conditions-and-diseases/coronavirus/2019-novel-coronavirus-myth-versus-fact
4. https://www.cdc.gov/coronavirus/2019-ncov/travelers/index.html
---