Travelling to South Africa with the little ones but worried about the new South African child visa requirements? Our sister site -- Drive South Africa -- created a Child Visa Checklist app that tells you exactly which documents you'll need before boarding the plane.
From 1 June 2015, all minors (under the age of 18) must travel with an unabridged birth certificate, which names the child's mother and father - or the equivalent thereof from their country of origin.
However, the documentation needed before travelling to South Africa get more complicated for single parents, if one parent is deceased and for unique circumstances such as if the child is adopted or in foster care.
Andre Van Kets, creator of the Child Visa Checklist app, says there are "15 different documents and 37 unique scenarios for children travelling in and out of South Africa".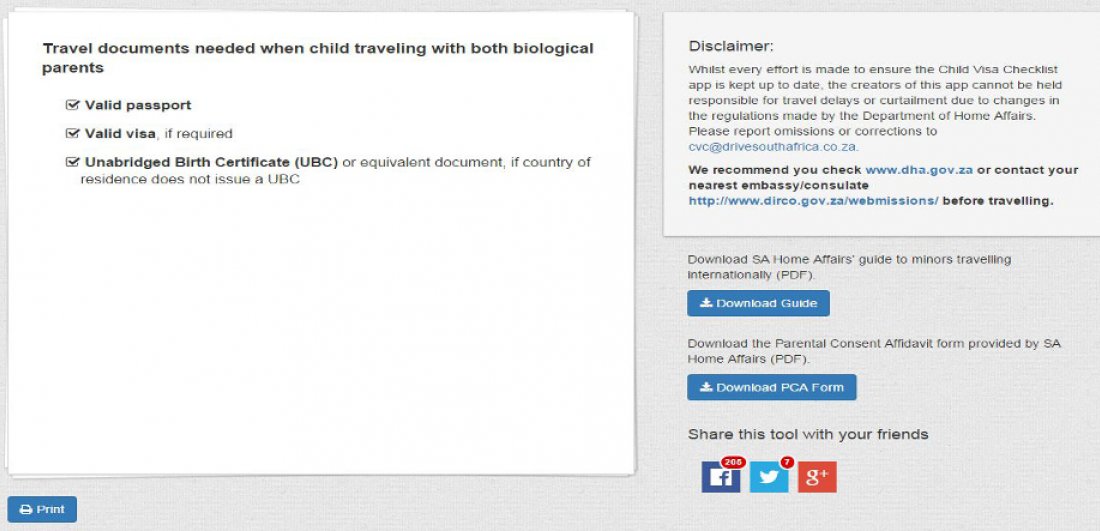 How the Child Visa Checklist app works
The interactive web tool asks users of the app two or three simple multiple-choice questions to determine which documents they'll need. The questions are:

Who the child is travelling with

Parental status (married, divorced, legally separated etc.)

Any other special circumstances (adoption, foster care, whether both parents are still alive, etc.)
Once the user has answered these questions, a checklist of documents needed is displayed on screen, which can be printed for later use.
The Child Visa Checklist app -- which is accessible on desktop and mobile -- also provides links to official documentation from the South African Department of Home Affairs and answers frequently asked questions about the new child visa requirements in layman's terms.
---