Sossusvlei Lodge
Sossusvlei, Namibia
Make Sossusvlei Lodge part of your safari from
ZAR 1,400
Show price in
USD $ 97
GBP £ 73
ZAR R 1,400
EUR € 86
per person per night
Situated adjacent to the oldest desert in the world, Sossusvlei Lodge is a luxurious retreat in this premier tourist attraction area in Namibia. Shaded by camel thorn trees, the lodge blends in perfectly with the spectacular desert surrounds and bears testament to the ingenuity of an eco-friendly design.
Explore the vastness of Namibia's unspoiled natural environment with the Sossusvlei Lodge Adventure Centre. Choose from guided Sossusvlei trips, hot air ballooning, eco-friendly quad biking, nature drives, sundowner trips, bush dinners, guided sunset walks, archery, stargazing and scenic flights.
A dip in the sparkling pool or an icecold beer under the shady trees in the Acacia beer garden makes for the best relaxation after an eventful day. The al fresco terrace offers magnificent views of the floodlit waterhole where you can watch the passing parade of oryx, springbok, jackal, ground squirrel and hyena, whilst enjoying exquisite food and wine. Indeed a visual and culinary contrast, bearing in mind the relative remoteness of this exceptional location.
The separate accommodation units are carefully laid out to perfectly blend in with the magnificent surrounding natural environment. Each fully air-conditioned accommodation unit has a patio, en-suite bathroom with shower and a spacious bedroom under canvas with adobe-style plaster walls.
Stay at Sossusvlei Lodge on these recommended safaris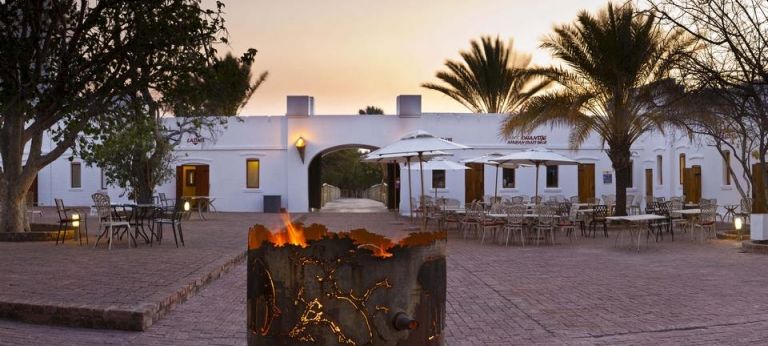 Immerse yourself in the luxury and old-world charm of this train journey through a land as old as time
$ 4,759
£ 3,574
R 68,600
€ 4,195
per person
9 days
Sossusvlei Lodge Details
Activities offered at the lodge
Floodlit waterhole
Guided Sossusvlei trips
Nature drives
Sun downer trips by 4x4 and quad
Bush dinners
Guided sunset walks
Archery
Star gazing
Hot air ballooning
Helicopter flights
Eco friendly quad biking

Amenities
Bar/Lounge
Business Center
Dining/Communal Area
Free High-Speed Internet
Restaurant
Swimming Pool
Curio shop

Included in your stay
Meals: Half board (2 meals daily)

Sossusvlei Lodge Map
Sossusvlei Lodge's location in Namibia on Google Maps

Reviews on our safaris in this area
Every one was so helpful in making the arrangements. The booking people helped in all the questions we had, they were polite and helpful. The tour and lodge were amazing. Every one was helpful and very interesting to talk to. They made our…
Shelia
from United States of America
Reliable and helpful, excellent service...everything was in line with our expectations! We had a great time in South Africa, Namibia and Botswana!
Valentina & Stefano
from South Africa
My young family and I utilised the Discover Africa Group over our 2008, 2009 and 2012 holidays - in total some 14 weeks through South Africa, Namibia and Botswana. Our expectations in terms of itinerary planning and accommodation bookings…
Kerfoot Family
from Australia
I would like to place on record the very important role that Discover/Overlanding Africa and in particular Steve Conradie played in making a success of our Africa trip (Cape to Kenya). The vital information that we were given (that you don't…
Eady Family
from South Africa
We have just returned from our 3rd African safari, this time as far north as Zambia and had an amazing time. It was everything we expected and more. The scenery was beautiful and the wildlife spectacular and the kids loved every minute of…
Howes Family
from New Zealand
Steve, It has been so long, I hope you remember who I am, lol. As a I said before the trip was magnificent, a never-to-be forgotten experience! Thank-you for everything you and your staff did to make this one of the most fabulous…
Viljoen Group
from Australia
Ready to start your adventure?
Your tailor-made African holiday starts here...
Oops something went wrong.
We couldn't save your enquiry, sorry for that.
Please sent us an email on: info@discoverafrica.com
Apologies for the inconvenience.
Thank you, your enquiry has been received
Reference:
Click here
to read some of our client testimonials.