Kunene safari, tours & holiday packages
Namibia's isolated northern territory
Want to travel to
Kunene Region?
Free safari planning advice
from destination experts
Home to ochre-coloured Himba people, this is one of Namibia's most sparse and spectacular valleys stretching right down to the Skeleton Coast
The Kunene is probably the most remote region in the whole of Nambia. Considering how sparsely populated Namibia is in general, this is saying a lot. The famous Himba people call this place home, along with interesting desert-adapted wildlife such as elephant, black rhino and lion. The Kunene River marks the boundary between Namiba and Angola, a lifeline through the otherwise dry and unforgiving landscape.
Paul Steyn says
"The epic, endless vistas of the Kunene and Hartmann's Valley are life-changing to witness. I will never forget perching quietly on a bare rock on the edge of the Hartmann's valley, staring out over a the red/brown desert and feeling as if the world had literally ceased to roll on it's axis."
Popular Kunene Region safaris
These popular itineraries can be customised to match your budget and travel dates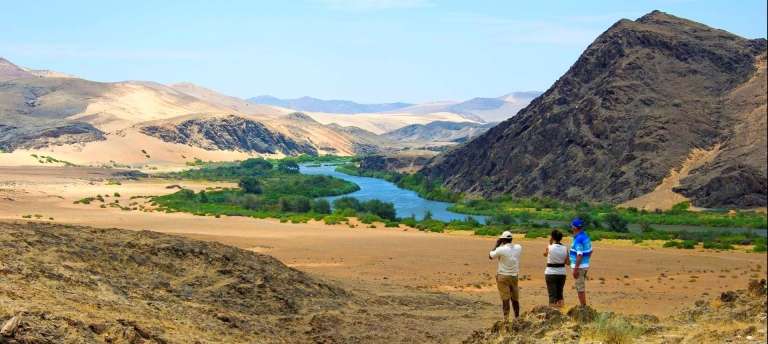 Experience Sossusvlei's red dunes glowing in the early morning light, find desert-adapted elephant in Damaraland and meet the Himba nomads in Namibia's far north-west
$ 5,986
£ 4,127
R 93,578
€ 5,334
per person
7 days
More on Kunene safari, tours & holiday packages
The Kunene is situated in one of the most beautiful valleys in Africa: the Hartmann's Valley. The views in this part of northern Namibia are are spectacular, and an afternoon flight into the Kunene is a powerful experience.
An encounter with the traditional Himba people is something truly unique. A once nomadic people, the Himba are now permanently situated in the area. As protection from the sun and heat, the women cover their skin in a mixture of ocher and butter, creating a beautiful tone that seems to blend right into the reds of the desert. There are a number of villages that happily display their way of life to interested visitors - it is possible to enter right into a Himba hut and interact with the elders of the village.
Along the Kunene River are the Ruacana and Epupa Falls, both of which are amazing sights. Serra Cafema camp is one of the best-known lodges on the Kunene River and offers boat cruises and game drives in search of the desert adapted elephant and rare black rhino.
Kunene safari, tours & holiday packages Map
Kunene safari, tours & holiday packages's location on Google Maps