Popular Botswana Safari Through the Delta (5 days)
Popular Botswana Safari Through the Delta (5 days)
Experience the remote wilderness of Botswana on a safari that offers you luxurious game viewing like no other.
This Botswana safari transports you into the inner reaches of the Okavango Delta and spoils you with a string of magical wilderness safari moments while you're inside. Experience everything from motorised boat cruises, fishing charters and a night-time game drive, to exquisite bush cuisine, and a tranquil mokoro safari through the delta's labyrinth.
Jan
Feb
MarLow
Apr
May
Jun
Jul
AugPeak
SepPeak
OctPeak
Nov
DecLow
Costing tip: When comparing with other companies, remember most of them only show the low season rate. How pricing works >
What to Expect on This Safari
This popular itinerary can be customised to match your budget and travel dates by adding/removing a few days or selecting different lodges
Delta dreaming
At Maun Airport you'll be met and assisted to the charter flight which will fly you into the heart of the Okavango Delta. You will be welcomed to Shinde Camp, which is located on a private island concession, and given time to settle and freshen up in the luxury tented camp. Not wanting to waste valuable safari time in one of Africa's most unspoiled wilderness areas, you will head out on an afternoon game drive.
Meals: All meals and selected drinks
Transport: Included
Explore the Delta
Heading out on a game drive in this private concession just before first light is worth the early morning rise and shine. This time of day affords you a better chance of spotting the ever-elusive leopard or the African wild dog that are part of a research project that runs in the area.
Once back at the lodge, a hearty breakfast awaits. The rest of the day can be enjoyed relaxing with a good book on the balcony overlooking the lagoon.
In the afternoon, after lunch and a siesta, join one of the motorised boat cruises into the delta.
Meals: All meals and selected drinks
Transport: Included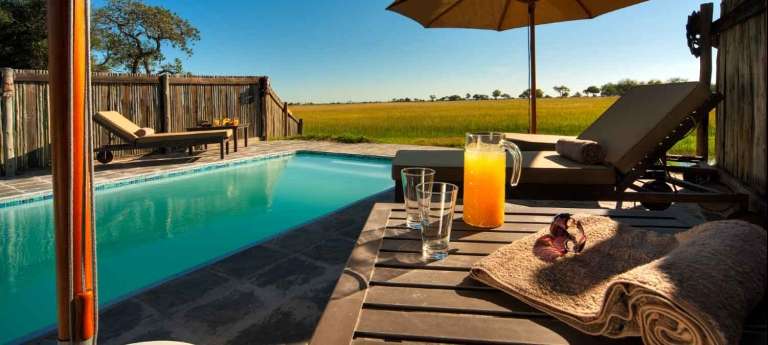 Water safari
After breakfast you'll be flown to the next lodge on your itinerary – Kanana Camp. Situated in a private concession that's known for its top-notch water safaris, Kanana Camp offers a wider variety of activities than most of the other lodges in the area.
Continuously receiving rave food reviews from returning clients, a light lunch at the camp will awaken your taste buds with the camp's bush cuisine. With your appetite satisfied, the rest of the afternoon is at your leisure.
The fall of night brings the opportunity to spot nocturnal wildlife and predators when exploring on a guided game drive.
Meals: All meals and selected drinks
Transport: Included
Deep in the Delta
Start your day exploring the delta's labyrinth of winding waterways, reed islands, fields of floating lily pads and pods of hippos on a tranquil mokoro ride.
After brunch, try your hand at fishing for bream or tiger fish before setting off on a guided adventure to spot a variety of the area's wildlife and bird life. Kanana Camp is tucked away within the inner reaches of the Okavango Delta, holding the promise of an abundance of unspoiled, thriving wildlife and vegetation to enjoy while exploring.
Meals: All meals and selected drinks
Transport: Included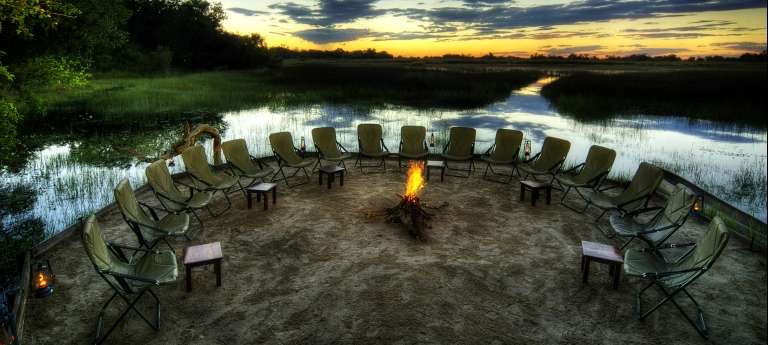 Fly home
Your final morning in the delta's African paradise offers the opportunity to enjoy one last breakfast before you're flown back to Maun for your onward arrangements.
Safari Map
This is where you'll travel on an 5 -day safari like this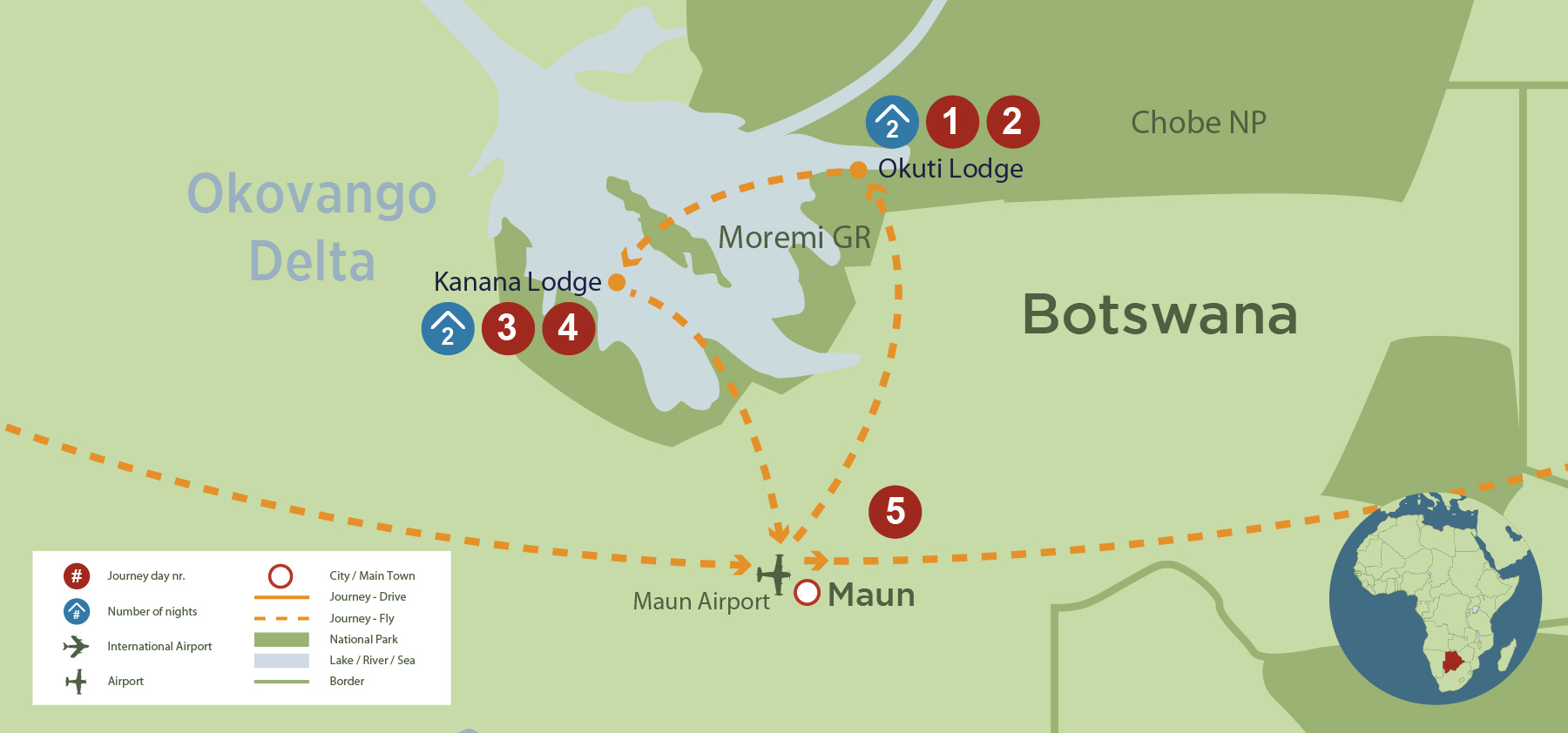 Recommended Iteniraries and Tours