Affordable Tanzania Calving Season Safari with HerdTracker (9 days)
Affordable Tanzania Calving Season Safari with HerdTracker (9 days)
Few things compare to watching a wildebeest calf take off soon after birth.
Go on a 9 day safari like this from
USD 6,790
Show price in
USD $ 6,790
GBP £ 5,439
ZAR R 115,528
EUR € 6,038
per person
customised to your needs
In January and February every year, an incredible 80% of wildebeest females intuitively give birth within the same two to three week period, before the great migration commences. The synchronisation reduces the possibility of tender wildebeest calves becoming easy prey. This Tanzanian Calving Season Migration Package is a definite must if you'd like to watch the migration from a different perspective.
Show price in
USD $6,790 - $6,790
GBP £5,439 - £5,439
ZAR R115,528 - R115,528
EUR €6,038 - €6,038
Estimated cost per person for a 9-day safari like this, depending on the season.
International flights not included.
Jan
Feb
Apr
May
Jun
Jul
Aug
Sep
Oct
Nov
Dec
Costing tip: When comparing with other companies, remember most of them only show the low season rate. How pricing works >
What to Expect on This Safari
This popular itinerary can be customised to match your budget and travel dates by adding/removing a few days or selecting different lodges
Arrival in Arusha
Welcome to the first day of your African adventure. Arrive at Kilimanjaro International Airport where a welcoming team member from The African Tulip will meet and take you to the hotel in Arusha.
Spend one night with bed and breakfast included. Enjoy the comfort of your room, which reflects the beauty of the nature surrounding you - something you will experience throughout your safari.
Explore interesting cultural programs, museums and diverse wilderness areas near Arusha, including Arusha National Park and Mount Kilimanjaro National Park.
Meals: Bed and Breakfast
Transport: Included
Tarangire National Park
After waking to your first Tanzanian sunrise, it's time to head to Tarangire National Park, the most underestimated park in Tanzania. This is a unique opportunity to experience and explore the Tarangire and Manyara ecosystem.
Spot large herds of elephant, wildebeest, zebra, buffalo, giraffe, impala, gazelle, hartebeest and eland, as well as predators like lion, cheetah and leopard, to name a few. After enjoying guided safari drives, relax in the Maramboi Tented Camp with all your meals and soft drinks included.
Meals: All meals and Soft drinks
Transport: Included
Ngorongoro Crater
After breakfast in the Maramboi Tented Camp, it's time to pack your belongings and head to Ngorongoro Crater. The Ngorongoro Crater offers a classic Big Five safari experience in the unique setting of an ancient volcanic caldera. Home to countless animals, you will enjoy guided game drives and nature walks, that will give you the opportunity to see bird species, elephant, buffalo and the occasional lion.
You will also visit Lake Manyara National Park - a scenic gem with elephants, baboons, zebras and its famous sea of pink flamingos. Pakulala Luxury Safari Camp by Sura Afrika will be your home for the next two nights with all meals included.
Meals: All meals
Transport: Included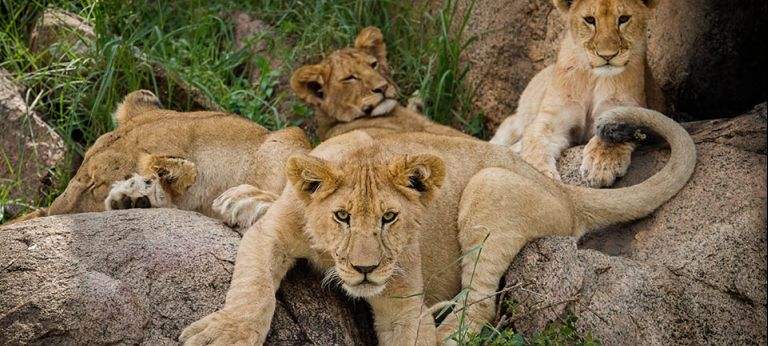 South Serengeti
Once you're settled in, you can enjoy viewing the birth of wildebeest calves and witness them taking off soon after being born.
The annual wildebeest migration through the Serengeti and Masai Mara is the largest mass movement of land mammals on the planet, with more than a million animals following the reins. You will see the resident population of lion, cheetah, elephants, giraffe and the impressive bird species. It is here where you can enjoy your full board in the Nasikia Mobile Migration Camp, which is opened between December and March.
Meals: All meals
Transport: Included
Say your goodbyes to the nation!
Like all great journeys, the Tanzanian calving season adventure has come to an end. It is now time to bid farewell before being transferred to Ndutu Airstrip for your flight back to Kilimanjaro International Airport.