HerdTracker July/October Great Wildebeest Migration safari
HerdTracker July/October Great Wildebeest Migration safari
The movement takes place in Tanzania, which covers Serengeti National Park, Ngorongoro Crater, Arusha and Tarangire National Park
Go on a 9 day safari like this from
USD 8,240
Show price in
USD $ 8,240
GBP £ 6,600
ZAR R 140,199
EUR € 7,328
per person
customised to your needs
Let HerdTracker help you to track the movement of the migratory herds, allowing you to book a migration safari in order to experience the great migration first-hand. We've compiled a safari that will be perfect for you to explore the migration on.
Show price in
USD $8,240 - $8,240
GBP £6,600 - £6,600
ZAR R140,199 - R140,199
EUR €7,328 - €7,328
Estimated cost per person for a 9-day safari like this, depending on the season.
International flights not included.
JulPeak
AugPeak
SepPeak
OctPeak
Costing tip: When comparing with other companies, remember most of them only show the low season rate. How pricing works >
What to Expect on This Safari
This popular itinerary can be customised to match your budget and travel dates by adding/removing a few days or selecting different lodges
The perfect way to start your journey
When you arrive at Kilimanjaro International Airport, you will be met and transported to the Onsea House. This will be your home for one night with your bed and breakfast included.
Many activities including cultural tourism programs, village visits, game drives and nature walks will fill your day with adventure and unforgettable experiences. These activities include a coffee tour, cultural walk to Baraa Primary School, a Mount Meru walking safari, Lake Duluti Forest Reserve tour, Arusha city tour and Meru cultural tourism.
Meals: Bed and Breakfast
Transport: Included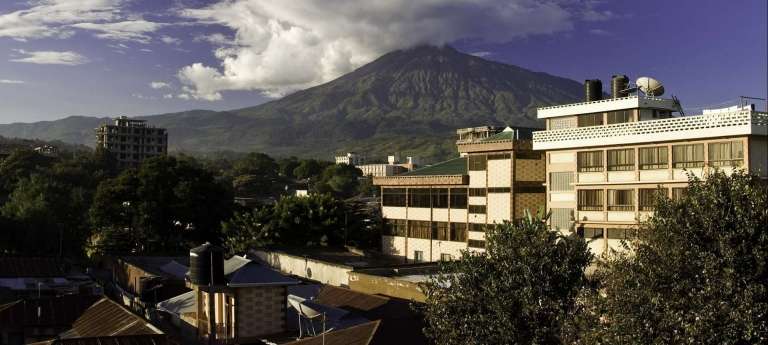 Unique Tanzanian experience
Drive from Arusha to Tarangire National Park, where Nimali Tarangire will be your home for the next two nights with all your meals and activities included.
Nimali Tarangire has a wonderful location on the eastern boundary of Tanzania's Tarangire National Park, an area renowned for its excellent game viewing opportunities and its large concentration of elephants. The lodge is set along the river in the shade of acacia and baobab trees, overlooking a waterhole that attracts a wealth of wildlife. You will enjoy an array of activities from the lodge or can simply relax on the private veranda. You'll be offered game drives with professional guides, providing great sighting and knowledge of the wild animals. Expect to see tree climbing lions, Lesser kudu, Fringe-Eared Oryx, Grant's gazelle, leopard, buffalo and huge herds of elephant, while migratory wildebeest, zebra, buffalo, impala, gazelle, hartebeest and eland crowd the plains.
Other activities you should look out for include night game drives, walking safaris, balloon safaris, Maasai village tour, bird watching and a bush lunch and dinner with sundowners.
Meals: All meals and Local drinks
Transport: Included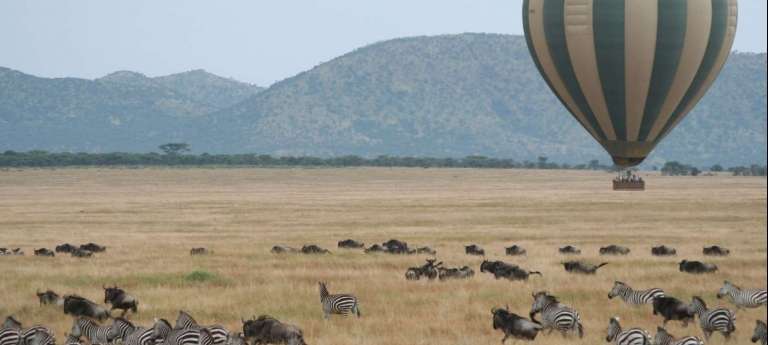 World's most unusual wildlife destination
Spend two nights in the Sanctuary Ngorongoro Crater Camp with all your meals included. The Ngorongoro Crater in Tanzania is one of the world's most unusual wildlife destinations.
The camp is located in the Crater's rim valley, close to the access road that leads to the crater floor. In addition to superb and varied game viewing, you can also have a cultural encounter in a traditional Maasai village. The crater offers some of the best game viewing in Africa, from zebra, elands, elephant and a paradise of predators from jackal and hyena to leopards and lions. It's not unusual to see all members of the Big Five in a single day.
Meals: All meals and Local drinks
Transport: Included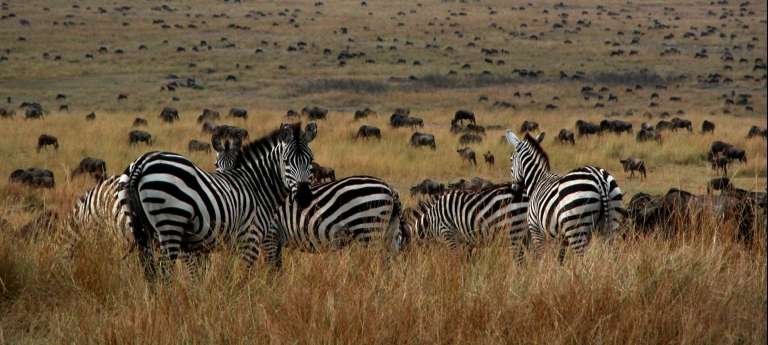 Migration moves around the Serengeti
After bidding farewell to Ngorongoro Crater, you will be transferred to Manyara Airstrip for your flight to the Serengeti. On arrival at Kogatende Airstrip, you'll be transported to the Lemala Mara Camp, where you'll spend three nights with all your activities and meals included.
Lemala Mara is a classic tented safari camp, an ideal setting to witness the wildebeest migration as it moves around the Serengeti. Following the migration route, the camp is located in the northern Serengeti between June and October and is located on an isolated hill that overlooks the northern Serengeti plains, putting you in the front-row seat as the wildebeest and zebra herds make their way to the crocodile-infested Mara River.
Enjoy the camp's excellent game viewing. Explore game drives, balloon safaris, sundowners and Lemala Cubs Kids Activities in the Serengeti National Park.
Meals: All meals and Local drinks
Transport: Included

A perfect end to a perfect journey!
After breakfast and scheduled activities, you'll be transferred to Kogatende Airstrip for your flight back to Kilimanjaro Airport.