Etosha National Park is a prime Namibia safari destination that hosts an extraordinary variety of wildlife.

Tucked in the northern corner of Namibia, Etosha National Park, one of the most diverse parks, is the perfect destination for wildlife enthusiasts.



Etosha National Park | Best Safari Lodges in Namibia
The Namibia Safari Lodge is home to exciting species of wildlife and home to a wealth of game life and hundreds of species of birds. It offers a striking landscape of salt pans and desert.
When planning your next Namibia safari - be sure to include Etosha National Park as your safari lodge destination.

Listed below are some of the reasons why Etosha should be on your bucket list for your next safari destination:
Wildlife and more Wildlife

There is nothing quite like seeing big game animals in their natural habitat.

Etosha Safari Lodge | Stunning meal view
Etosha is a vast wildlife spotting reserve - which could be the best in Southern Africa. It offers you the chance to see four of the Big five (elephant, rhino, leopard and lion - Buffalo are not present in the park) as well as an immense amount of other animals such as giraffe, cheetah, hyena and gemsbok. The park is home to approximately 114 mammal species as well as 340 bird species.

Rhino in Etosha Park, Namibia Safari Lodge
If you are keen to spot the Black Rhino, which is nearing the edge of extinction, Etosha is one of the best Namibia Safari destinations to view these docile giants.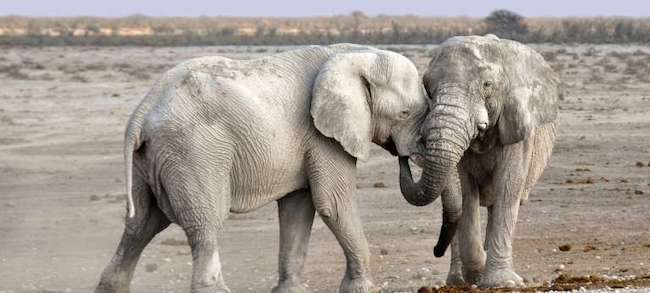 Elephants in Etosha National Park, Namibia Safari Lodge
Also, the elephants are among the biggest you will see anywhere else in the world.
Namibia is largely a desert which means that there are far fewer trees, which is an added perk for visitors as it is much easier to spot animals that aren't camouflaging in the trees or hiding in the branches.
The Dramatic Landscape
Etosha is most famous for its extensive salt pan. This salt pan is so big that it can be seen from space. The pan provides striking views and breathtaking backdrops to your game-viewing and wildlife or landscape photographs.

---

Etosha Park Pan
In the wetter summer months, the pan can fill with water and becomes a sparkling oasis for birdlife. The sunsets and starry skies over the vast, open landscapes of Etosha are spectacular.
Easy access
Etosha might feel completely remote, but the good news is that you would be hard-pushed to find many more accessible parks anywhere in Africa. The park is a comfortable five-hour drive on maintained and well-signposted roads from the capital of Namibia, Windhoek.

Self-drive adventure Namibia
When reaching Etosha National Park, you will find that the roads and tracks are well maintained and can be used without a 4x4 vehicle. Many of the best waterholes, where much of the game assembles in the dry winter months, are easily accessible.

Self-driving is allowed, and maps are provided at the park gates. Guided tours can also be arranged - which will allow you to sit back and relax whilst enjoying the landscape and game viewing.
Where to stay
Etosha has a selection of accommodation to choose from - which suits all type of travellers and their budget and is considerably more affordable as a safari destination than many of the other game reserves.

If you are looking for an adventurous cheaper option - opt for the designated game-proof campsites where you can pitch your tent for a small fee. With so much to see and do in Etosha National Park and with over 40 watering holes, making it much easier to spot animals - Namibia's Etosha National Park should be your next Namibia safari destination. For more luxurious Safari lodge options have a look at our Best Safari Lodges in Namibia blog.
---