Boasting over 20 years of safari guiding experience, Discover Africa had the priviledge of chatting to Singita's acting head guide, Chantelle Venter, who is currently plying her trade in the wildlife-rich Kruger National Park.
When is the best time to visit the Kruger National Park?
The Kruger National Park is an excellent all-year round safari destination, however, travelling in certain periods of the year does offer certain perks and opportunities.
The best game viewing can be done during the winter months of May to September. This is also known as the dry season, as Kruger will receive very little rain during this time. What makes the game viewing superb is the lack of vegetation, making the wildlife much easier to spot. Also, the wildlife within the Kruger National Park will congregate around water holes, making them easier to find.
Summer is the wet season for visitors travelling to the Kruger National Park. The park will receive lots of rain, and one can witness the birth of newborn wildlife, while predators such as lion, leopard and cheetah look to take advantage of the vulnerable young animals.
What wildlife can I see at the Kruger National Park?
The Kruger National Park is home to all the Big Five species. All of Africa's big cats can be found here, and there are plenty of buffalo, elephant and buck. Giraffe meander along gracefully and you might even be lucky enough to spot a pack of African wild dogs. Other rare species include the pangolin, black and white rhino, golden mole and riverine rabbit. Look out for the African black-footed wild cat; a small but highly effective nocturnal predator.
Birdwatching is also excellent here, in fact the Kruger is home to 500 bird species; more than half of the birds recorded in South Africa.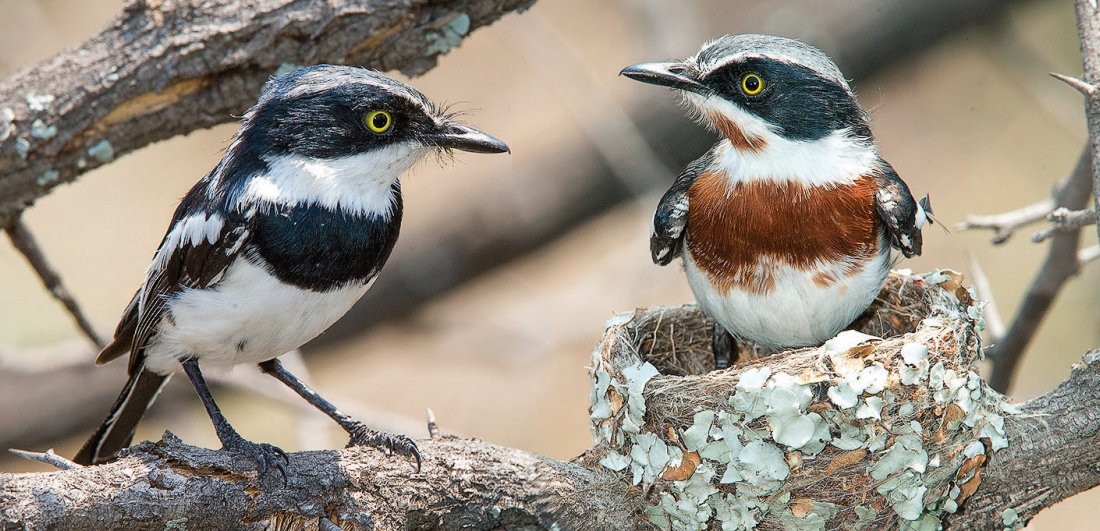 Chinspot Batis by Warwick Tarboton from his book Guide to Birds of the Kruger National Park
Keep up-to-date with the happenings in Kruger by following these handy Facebook accounts:
Include a trip to Kruger National Park in a thrilling safari in South Africa. Find out more here.
---