Meet Discover Africa's Veruschka Nel

Here at Discover Africa Safaris, we pride ourselves in our everlasting love for Africa and providing our travellers with an authentic African safari experience. Nobody else exudes this more than our very own Head of Procurement and Product, Veruschka Nel.
Veruschka is the person that makes sure that our travellers gets access to the best safari lodges, camps and hotels in Southern Africa. She also ensures that the coffee pot in the office is filled first thing in the morning (Thanks V!).
To find out just what goes on in the head of Verusachka, we had a short Q&A session with her.
How long have you been with the company?
Two and a half years now.
What do you enjoy doing in your spare time?
Cooking, going for walks on the beach or anywhere close to water.
What's your favourite movie?
Must I have a favourite movie? Genade! (Afrikaans for goodness gracious). Uhm... Bridget Jones's Diary. I like the humour, it's fast and not obvious.
If you could invite three people over for dinner, who would it be?
Jane Goodall so that I can say "thank you" for all the awareness she has created, not just for chimps, but for wildlife in general. K.D. Lang because I love her music and Suze Orman so she can fix my finances (wink, wink).
Jane Goodall, Animal Rights Activist
Where have you travelled before?
I lived in America for a year, Israel for two years and I've also travelled to Kenya, Tanzania. Namibia, Seychelles, India, Zambia and Cyprus.
Which three destinations would you like to travel to next?
I'd like to go to South America, like Machu Picchu or the Amazon because of the unknown. I want to go to Paris for a week and sit in all the little coffee shops. I also want to go to Croatia.
Macchu Picchu in Peru
What was your worst experience while travelling?
Being stuck in a small vehicle with people I didn't know with on an educational trip in Namibia.
The best meal you've ever had on holiday?
I think it was probably in Israel, it was pita bread and salad and hummus. It was in the Sea of Galilee where we stopped. We were running out of money and it was all that we could afford! But it was a very nice meal.
The weirdest meal you've eaten on holiday?
Mopani worms and crocodile. I don't recommend either. I also had zebra in Namibia - you could almost taste the stripes.
If you had an unlimited travel budget, where you would you go?
Russia or Antarctica. They might be cold, but they're also the most expensive to get to!
Previous Article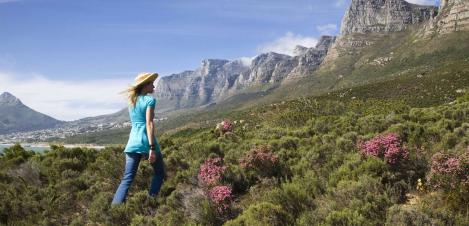 Next Article