So you're ready to do your bit to join the green travel movement. Brilliant, we need more people like you exploring our green earth. We trust that you will find a number of helpful green travel tips below to help you save the environment whether travelling in Africa or abroad.
Green Travel Tips - Staying at a Hotel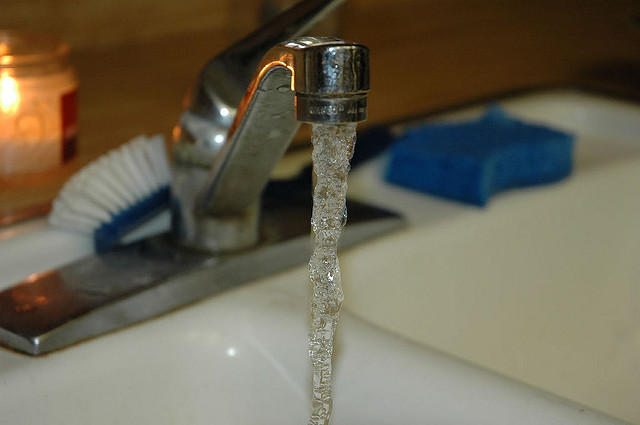 Above: Save water by turning off the faucet while brushing your teeth.
Reduce energy
A great way to reduce your energy usage without even trying is to turn off the heating, air-conditioning, lights and other appliances whenever you leave your hotel room. A green travel tip that takes only a few seconds to execute.
Conserve water
It's no secret that Africa is labelled as a developing continent, and in many towns water is more precious than gold. No matter what area you're visiting, help conserve water by taking shorter showers and turning off the faucet while shaving and brushing your teeth. If you're extremely dedicated to the task of travelling green, try re-using your hotel towel for a few days instead of getting a fresh one every day.
Cleaning
Did you know that if your hotel does your laundry, they wash each guest's clothes separately? Okay, most people do know that, but when you actually think about it, that's a lot of electricity wasting. We're not suggesting you do your own washing, but perhaps you can get another day's wear out of those slacks. One of our neat green travel tips include leaving the "Do Not Disturb" sign on the door so that the housekeeping staff won't clean your room unnecessarily. It's a great way to save the electricity of vacuuming and washing bed linens as well as cleaning detergents.
Recycle
Find out if the hotel you're staying at has a recycling program (your travel consultant will be able to tell you). By placing recyclables in appropriate bins, you can participate in hotel recycling.
Green Transport Tips

Above: Ride a bicycle and explore a city.
Flight vs Train
For shorter trips, take the train instead of flying - nothing wrong with the scenic route! If you're not excited about the scenic route and insist on flying, no problem, go green by purchasing an electronic-ticket. Let's save the trees. Plus, if paper tickets are lost, you may have to pay a fee to replace them. Not very nice.
Vehicle Selection
Taking a long road trip? If your personal vehicle is not fuel-efficient and quite large, consider renting an economy car instead. When renting a car, choose the something small that can comfortably accommodate you, or rather opt for a hybrid vehicle rental. This is one of those green travel tips that sees you save money on gas and stops you putting extra miles on your own vehicle.
Non-stop Flights
Did you know that take-off and landing are the times when the most carbon emissions are released? Green travel tip: Book non-stop flights.
Get Around With Public Transport
If you do your research beforehand (aka ask your travel consultant), there is no reason why you should feel unsafe about the public transport you choose to take in a city. Try the bus or train and avoid hiring a car or using taxis.
Get Around With Energy
Earth-friendly transportation options are also heart-friendly. Why not go biking or walking around an area instead of hiring a car or hiring a taxi?
Share Taxis
Leave the driving to others and use this great excuse to meet new people. Oh yes, this green travel tip is also great for doing your bit to ensure less air pollution.
Green Adventure Travel Tips
The best way to ensure you're a green traveller is to put the old adage into practice: Take nothing but photographs, and leave nothing but footprints.

Above: Keep to marked trails to ensure safe and to preserve nature.
Don't Touch
If snorkelling, try and employ the 'look but don't touch' rule. A reef has a fragile ecosystem so it's best to merely remain observers.
Hike Marked Trails
When hiking, don't veer off marked trails. Not only do we want you to not get lost, but staying on track means you can let nature grow and function untouched.
Controlled Fires
Only light campfires in areas where permitted and don't forget to completely extinguish it before you leave.
Green Pre-travel Planning Tips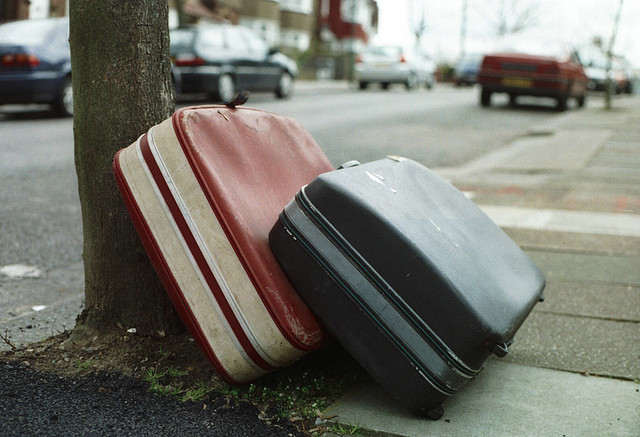 Above: Going green before you leave home.
Quick green travel tips to better help you prepare for being away from home:
Turn water heater to lowest setting or completely off.
Turn off your air conditioner or adjust the thermostat to protect plants while you're away.
Turn water off at outside connection (to prevent flooding should a pipe break while you're gone).
Unplug all electronics that don't need to be plugged in, like your TV.
Stop your newspaper order, or why not donate it to a school?
Reduce waste by reusing plastic bags.
If you use the hotel's toiletries, take them home with you afterwards to reduce waste.
Tips for Supporting the Local Trade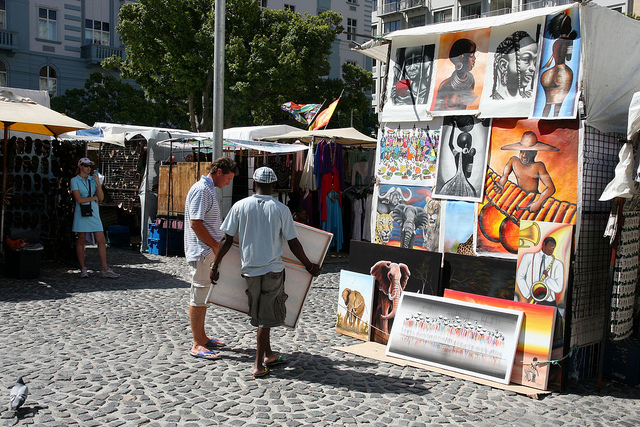 Above: When in Africa, buy locally.
Visit Local Shops and Markets
It's always great to support independent stores and veer away from using chain stores. As they say in South Africa "local is lekker" (local is great). Check with locals if there are any markets where you can buy organic fruit and vegetables, just be sure to avoid buying meat from the side of the road. Although the locals quite enjoy it, the meat may give the untrained stomach a nasty case travellers gut - a bout of diarrhea.
Buying Curios
Instead of buying curios that have been flown or shipped from overseas, buy local products whenever you can. Just remember that you don't want to buy products made from endangered animals or plants - you won't make it past customs with them.
Being a green traveller, means being a considerate traveller. I hope you find these green travel tips both useful and easily achievable. Let us know if you come across any more brilliant and green snippets of advice.
---